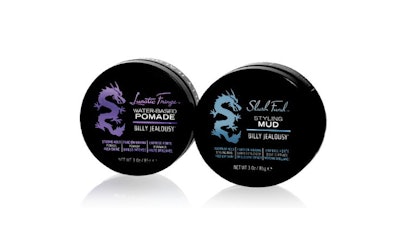 The Billy Jealousy brand of men's grooming products was founded in 2004 by Pat Parsi and Danielle Rouso with the goal to create a line of products combining science- and natural-based ingredients and wrapped in a playful yet polished brand experience. They succeeded, and today Billy Jealousy products are sold throughout the world.
Recently, Parsi decided to redesign the men's haircare line to increase its reach with a younger segment of men. With the help of TricorBraun designers, Billy Jealousy introduced its new Black Line of haircare products with an edgier packaged look, a more subtly stylish version of its iconic dragon logo, and an increased product volume—3 oz versus the 2 oz of the earlier packaging––all intended to appeal to the stylish yet practical sense of today's younger (18- to 40-year-old) professional male.
"The product formulations are the same, but the package is new in almost every way," explains Parsi.
The new line includes six hair-styling products in jars, a hard hold gel in a tube, and a bottled shampoo. The styling products appeal to this demographic with names such as Ruckus Molding Cream, Clutch Play Texturizing Gunk, and Controlled Substance Hard Hold Hair Gel. The shampoo bottle is a lighter smoky black that, as the product is used, allows the user to see the remaining volume.
The PET jars and polypropylene lids are molded from TricorBraun's molds. Each styling product is distinguished with a pressure-sensitive foil label on the lid and a p-s wraparound foil label for the body, with the labels carrying a different color accent on the logo and product name. Bottom labels that carry the product information are p-s paper labels.
One other change Parsi made when designing the new packaging was to remove the induction seal commonly seen on jars. "Customers shopping for haircare products often like to open the jar and smell the scent of the products," Parsi points out. "We thought it was important to make it possible for them to do that, since testers are not provided at some of our retail outlets."
The medium-density polyethylene tube is silkscreen printed and features a stamped dragon design. It is topped with a flip-top dispensing closure. The PET Boston round shampoo bottle is decorated with a wraparound p-s label.
"As our graphic designer was designing the labels, she also modified our Billy Jealousy dragon logo to make the dragon simpler and more appealing," says Parsi.
The collaboration with TricorBraun to design the new Black Line began in late 2014, and the design went through a number of iterations over four months before the final Black Line designs were finalized. The line began appearing on shelves in January 2015 in stores such as HEB as well as in upscale barbershops such as Roosters and Knockouts.
"Working with TricorBraun designers helped us realize our vision with the impact we were looking for in our finished packages," says Parsi. "The response from salons and consumers so far has been universally positive."
Companies in this article