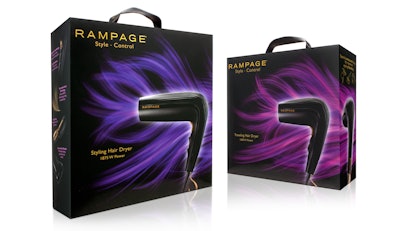 When beauty appliance company Jerdon Style licensed the Rampage women's clothing brand for a line of hair styling tools in 2012, it needed a package design that could convey the functionality of the product while delivering the fashion-forward flair of the Rampage brand.
"Our challenge was to bring a lifestyle brand into a category where branding was essentially invisible," explains Helena Yoon, Creative Director of Anthem, the global creative agency that articulated the Rampage brand, and led the structural design of the new Styling Hair Dryer product and its packaging. "In our research, consumers actually surprised themselves by having no idea what brand of styling products they were using. We also had to bring a powerful style halo into what was typically a very function- and feature-driven technology space."
In addition to designing packaging that would deliver the "wow factor" of the trendy Rampage brand while still communicating a professional, benefit-driven product experience, Anthem also needed to create a structure and design that would stand out in a highly cluttered and often undifferentiated category; convey the functionality of the product first, with fashionable accents as a secondary design component; project a contemporary point of view, yet avoid momentary fads; and tell a compelling story through familiar fashion language.
From consumer research, Anthem learned that the target consumer—women aged 18 to 32 who describe themselves as "trendy" and "glamorous"—"welcomes unique twists like glitter, leopard print, and bright pops of color, so long as they're tastefully used," explains Anthem's Director, Design Strategy, Jennifer Murtell. "Overdoing these elements would cheapen the perceived quality of the product and lack sophistication. Similarly, visual cues that are too cute and bubbly don't go over well with this audience. Soft colors and flowery accents with a 'girly innocence' feel too young and passive—not dynamic enough to believably be the Rampage girl."
With consumer and category research and brand positioning in hand, Anthem first developed the package structure, a paperboard carton with a branded, fabric ribbon that can be used as a hang strap. The carton is offset litho-printed by a China-based converter in six colors, including a gold ink, plus matte and gloss varnishes, embossing, and gold foil stamping.
To allow consumers to see the product before purchase, Anthem designed the carton with an inner box with transparent panels that slides open to reveal the dryer nestled in a flocked insert.
Used for a full-size and a travel-size hair dryer, the carton is printed with a black background to convey the premium and luxurious aspect of the product, while connecting to a "Little Black Dress" theme. An embossed hero shot of the dryer raises the product against the background, "giving it the prominence it deserves," explains Yoon. A flowing, feather-like hair illustration behind the hero shot is colored in deep, saturated purple (for full-size) or pink (for travel-size), to communicate richness and speak to the confidence and independence of the Rampage girl. The hair graphic is varnished with a glossy surface evocative of beautiful, lustrous hair. A gold-embossed brand mark conveys the premium aspect of the product.
Jerdon launched the Rampage Styling Hair Dryer in 2014 through Amazon and American Hospitality Supply Co.
Companies in this article