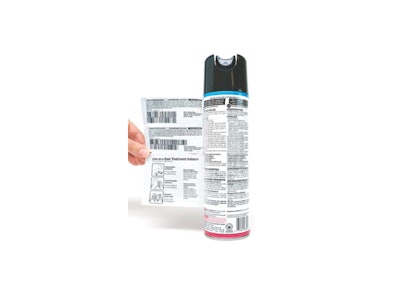 But other product categories have also found this labeling format useful, among them the household insecticide market. Hot Shot brand ant and roach killer in an aerosol spray can from St. Louis-based Spectrum Brands, a division of United Industries Corp., is one example.
"We went from litho-printed cans to full-body labels a few years ago," says Manufacturing Services Manager Jim McCaughey. "Now we've taken it a step further in developing this extended-text label. It's like a booklet that lets us add a coupon or additional product information."
Supplied by Quality Assured, the BackPack Roll-Fed Extended Content Label is described as a standard roll-to-roll / roll-fed BOPP label. United Industries applies it with the same Krones hot-melt glue labeler that it has been using for can labeling for the past five years or so.
In this particular application, consumers can "PEEL HERE" in two different places near the top of the can to remove two coupons and redeem them at point of purchase. A third "PEEL HERE" extended text portion of the label near the bottom of the can reveals helpful usage information and diagrams.
"We believe the extended-text label has been a terrific tool for the cross marketing of our Hot Shot products," says Spectrum Brands' Lacey Ebert, Senior Product Manager, Home & Garden Div. "Adding coupons as an incentive for purchasing encourages consumers to try out a variety of our Hot Shot products while also growing brand awareness."
Companies in this article