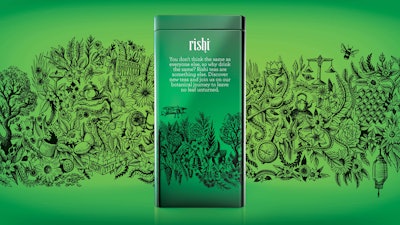 Rishi Tea, makers of a premium line of organic, hand-blended loose leaf teas with exotic origins, has revived its packaging, introducing a keepsake tin with graphics designed under the "no leaf unturned" brand story. Recently Rishi had switched to paperboard packaging for its 36 SKU line. However, with this material, the design had been muted and had lost much of its brand personality.The Rishi customer tends to be primarily female, affluent, educated, cultured, and conscious about their environmental footprint.
To redesign the packaging, Rishi enlisted the expertise of global design consultancy Elmwood. Working with Rishi management and through consumer insights, Eomwood determined that consumers devoted to loose tea coveted a tin for packaging versus paperboard."We saw that there was an innate desire from customers to have a lovely tin that they could display in their kitchen but also that they could repurpose as a container for a variety of other things," says Jeffrey Champeau, Brand Marketing Manager for Rishi. "The keepsake tin as packaging also signifies quality to loose tea devotees."
Through a category immersion process called FISH, the Elmwood creative team reverted back to Rishi's roots and reinvigorated the brand story with "no leaf unturned" as a guiding brand principle. The FISH immersion process allows Elmwood to "Explore It. Define it. Design It. Live It."
"We facilitated a modified direct point of view workshop to help define Rishi's brand story and personality. The Rishi team quickly aligned on the 'Free Thinking Tea' direction that allowed us to really demystify the packaging and help consumers quickly understand the tea type, origin, and brewing instruction," says Ben Greengrass, Creative Director for Elmwood.
The tall, lidded tin prominently displays the Rishi brand logotype on a field of rich green accented with a botanical "wallpaper" illustration as a key design element, to represent the journey and discovery that Rishi employs to uncover the most flavorful and high-quality loose leaf teas that can be found.Tea varieties are clearly differentiated via a color-coding strategy. The Rishi tin was printed using blended translucent inks that reveal the metallic aspect of the substrate. Product varieties utilize a spot pattern varnish to highlight icons found in the botanical illustration.
The new Rishi packaging is currently rolling out in stores in the U.S. and Canada. The product is available at Whole Foods nationwide and at other specialty U.S. food retailers in the U.S., as well as online. Rishi loose leaf teas range from $9.99 to $17.99 per SKU.