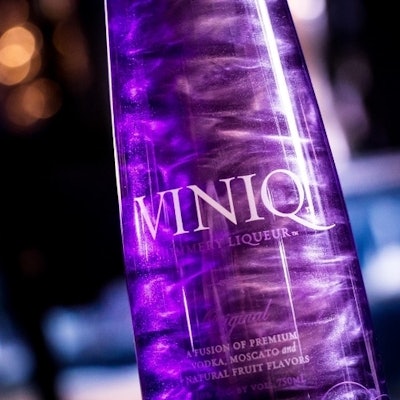 For E&J Gallo's line of Viniq liqueurs, it is the product that gives the package its shine. Viniq Premium Shimmery Liqueur is a fusion of premium vodka, Moscato wine, and natural fruit flavors that is mixed with a pearlescent pigment traditionally used for cakes and rock candy, for a sparkling, shimmering appearance. The liqueur is available in two varieties—Original and Ruby—colored with rich jewel tones of purple and deep red, respectively.
In considering the package design for the product, the E&J Gallo Marketing Team says it wanted one that would catch the consumer's eye by accentuating the delicious and beautiful shimmery fusion in the bottle. The resulting clear glass bottle has a tall, slender, tapered shape and is screen printed with clean and minimal, yet striking, graphics.
"The graphic design was informed by the swirl of the product," says the team. "The label is defined by sweeping waves of color." Dominating the design is the Viniq name in an elegant white font in the center of the bottle.
"Everything about the package—the tall bottle, the premium screen print, and the gorgeous exemplifies the beauty of the product itself," says the team.
The Original variety was launched nationally in February 2015 and was so well received that E&J Gallo followed it with Viniq Ruby in May 2015. The liqueur is available in a 375-mL size for $12.99 and in a 750-mL size for $19.99. Says the team, "Consumers are enjoying the flavor and the look of Viniq Shimmery Liqueur. It's unlike anything they've ever experienced, and retailers share the excitement."