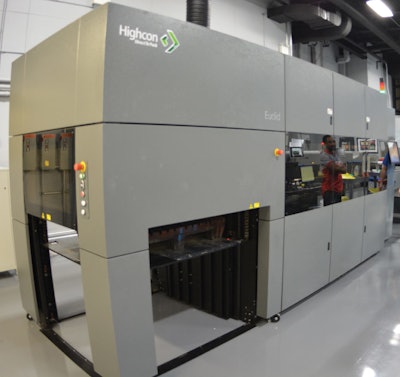 "If you walk around our plant, you'll quickly see that, like so many plants where folding cartons are made, a lot of space is occupied by dies. We have dies everywhere, even though we're always purging them. So when we first heard about carton finishing equipment that replaces physical dies with digital technology, we were immediately interested in
learning more."
That's how Vice President Sales & Marketing Bill Hodges of Boutwell Owens & Co. describes why this Fitchburg, MA-based firm was so intrigued when Highcon introduced its Euclid system, the world's first fully digital creasing and cutting machine for converting folding cartons. Euclid greatly streamlines the tried-and-true but rather cumbersome process of creasing and cutting cartons that is used today. It also reduces the need for the highly skilled employees typically needed to make carton creasing and cutting dies, which involves the skilled hammering of steel rules into sheets of plywood. And finally, because it does away with conventional dies, it frees up storage space formerly occupied by those dies.
As appealing as such manufacturing and operations advantages may be, the real value in digital carton creasing and cutting lies in what it permits Boutwell Owens to bring to its customers: an unmatched ability to meet the growing need for shorter runs of packaging materials now that micro-segmentation, SKU proliferation, and event-driven packaging campaigns are increasingly popular among the Consumer Packaged Goods companies of the world.
Making the Boutwell Owens story all the more intriguing is that shortly before the November 2014 installation of its Euclid system, the firm made another bold investment in digital technology when it became one of the first in the U.S. to install an HP Indigo 30000 sheet-fed digital press. Built to accept a 29.5 x 20.9-inch sheet size, the HP Indigo 30000 brings the same wide-format capability to sheet-fed carton converting that the HP Indigo 20000 brings to roll-fed flexible film converting. Possessing as it does both the HP Indigo 30000 sheet-fed digital press and the Highcon digital carton finishing system, Boutwell Owens is in the catbird's seat when it comes to fast turnaround/short run carton converting.
Though the two digital machines sit side by side in a specially built room—air conditioning, moisture and humidity control, newly poured cement floor—there is no attempt at linking them in a continuous in-line print-to-finishing work flow. "In fact," says Hodges, "we use the Highcon for cartons printed on our conventional offset presses when a run is short, thus saving the customer the cost of tooling a die."
Brave new world
It should be pointed out that certain challenges come with this brave new world of digital manufacturing. Figuring out an appropriate pricing structure is among them.
"We did the math on the number of jobs it was going to take to generate the necessary revenue through these digital systems," says Vice President of Operations Bill Lorenz. "What you have to keep in mind is that these are all going to be smaller jobs that go through the digital workflow. A smaller number of sheets, regardless of what the revenue per sheet is, means less revenue per job compared to the traditional workflow we have in the plant. How do you factor in customer service costs, administrative time, quoting time, and so on when you introduce so many small jobs into your workflow?"
One potential solution is what's referred to as the digital storefront approach. Lorenz explains.
"If you have a customer with repeat orders, you can load a population of their jobs on a storefront, give them password-protected access to it, and have a pricing structure set up that is job- and volume-specific. They can then put their orders in directly, literally processing their own orders online in such a way that those orders would drop right into our digital workflow in our prepress department. It's like an accelerated job-booking system. If the customer answers six or seven questions, our internal systems would be able to process these small jobs efficiently, no matter how many there are, without having our internal administrative costs spiral upward under the weight of so many jobs, each of them naturally smaller than the jobs we're accustomed to running on our traditional offset presses."
Hodges adds that HP Indigo 30000also has some ideas on how to optimize this process, as do pre-press specialists like Esko. But he thinks that when it comes to managing work flow in a world of digital manufacturing, most converters are going to be looking to customize it according to the way they themselves do business.
"Plenty of questions are surfacing and some potential solutions are being offered where work flow is concerned," says Hodges. "But our stance on it is that, in the interest of getting to market as quickly as possible, we're better off developing our own solutions rather than waiting on the rest of the world to do it for us."
Perfect customer for digital?
When asked to describe the ideal customer most likely to benefit most often from Boutwell Owens' new digital capabilities, Hodges says there is no single perfect customer. He also says that while figuring out which customers to target is still a work in progress, two targets are very clear: customers looking to better manage packaging obsolescence and customers seeking ways to keep inventory to a minimum.
One example of a customer with much to gain from a carton converter with digitally driven flexibility is UCI Fram Autobrands, makers of the well known Fram oil filters that are ubiquitous in the automotive aftermarket. "They make a filter for every car on the road," says Hodges. "The pressure of providing a full range of products for the never ending stream of new vehicle models combined with having to make filters for all the older models that are disappearing steadily from the roads is very taxing on their business. They've always been forced to buy large amounts of carton inventory, even though some of their SKUs are low-volume in nature. Now we're in a position to do some of their low-volume jobs practically on demand. Piece prices may be higher than in the past, but that will be more than offset by the savings they'll gain by carrying less inventory and reducing obsolescent packaging."
The other big opportunity Boutwell Owens will be targeting is in areas such as prototyping, new product releases, market testing, and focus group testing. "In the past customers would have a sample house print something in small quantities just to get them through a photo shoot or trade show," says Hodges. "The quality was usually suspect. Now we'll be able to print right on the actual paper stock they plan to run on and give them an actual production-quality piece."
Healthcare packaging is another target. "Highcon lets us do customized braille embossing or debossing," says Hodges. "And some of the ethical drug prescription business that's low volume is another place where digital is working well for us. They might look for 250 to 1,000 units."
Finally, there are the CPG companies who see customized or personalized packaging as the next great thing. "Like the Share a Coke campaign," says Hodges. "That sort of thinking is going to follow into other industries and package formats, including cartons. We'll be able to change an image or artwork from carton to carton. It's not cheap, because it takes time at the front end. But it gives the customer a flexible bandwidth of possibilities they would never even have dreamed of. And the quality of print is terrific."
Hodges also believes that having digital converting capabilities brings the company an opportunity to enter markets outside its current folding carton workflow. Advertising specials and direct mail promotions for healthcare companies or banks—even specialty wedding cartons each with a picture of the bride and groom printed in quantities of 100 or so—are now possibilities. "For us to be successful at this and keep these digital machines filled, we're going to have to pull business from some different markets," says Hodges. "It won't be just existing customers. I also expect us to get calls from some of our competitors who might want us to produce small-volume prototypes for customers with whom they usually do large-volume business. In the past they would go to a prototyping house, mount up proofs or digital comps, and then cut them on a CAD machine. Now they can come to us and we'll do service work for them like a trade shop."
The key to Euclid
First shown at Drupa 2012, Highcon's Euclid technology comes out of Israel, birthplace of so many digital breakthroughs, including the Indigo printing technology now owned by HP. The key to Euclid is DART: Digital Adhesive Rule Technology. Digital creasing data is uploaded from a DXF file to the Euclid system. Proprietary software translates the data and sends it to a special dispensing unit that contains an unnamed polymer. This polymer is released onto a PET jacket mounted on a hard metal upper cylinder. In essence, the dispensing unit extrudes onto the PET jacket the rules needed to make the carton creases. The pattern it extrudes is dictated by the digital data uploaded from the DXF file.
As soon as the polymer rules are laid down, they're hardened by exposure to UV light. Directly beneath the upper cylinder and its PET jacket is a lower cylinder that has a soft, silicone-like blanket mounted on it. All that remains is to send printed paperboard carton sheet through the two cylinders. As the upper cylinder with its UV-hardened rules presses into the soft surface of the lower cylinder, the carton stock in between is creased by the rules. Once the required number of sheets has been creased, the PET jacket is removed from the upper cylinder and a fresh one takes its place so that a completely different job can be downloaded.
As for cutting individual cartons from the sheet, it's done within the Euclid system immediately after creasing. An array of high-powered CO2 lasers combine with scanners and advanced optics to perform whatever cutting design was spelled out digitally in the uploaded file.
Among the things that pleasantly surprised the Boutwell Owens team is how quickly the Highcon machine went from arrival and installation to commercial production. "Within a week of its arrival it was creasing and cutting cartons," says Lorenz.
As for the HP Indigo 30000 press, Hodges says he likes the fact that no special paper is required. "If a customer wants a limited number of digitally printed cartons to appear on shelf beside cartons we produced in large volumes on a conventional offset press, all those cartons need to look identical," says Hodges. "The first step you take to getting them to look identical is to use the same paper. Besides, if digital printing meant that we had to buy special paper in small quantities, it would throw the costing way out of balance."
While conventional folding carton stock can be used on the HP Indigo 30000, it first must run through an in-line priming station that makes the substrate optimally receptive to the ElectroInks that are used in the HP press. The water-based primers are supplied by Michelman (www.michelman.com).
Though Boutwell Owens hasn't even finished a year's worth of production on its new digital carton converting systems, management sees opportunities galore. "There isn't a customer out there that can't capitalize on these digital carton converting technologies in one way or another," says Lorenz. "It's our job to educate people on what the possibilities are."
Expanded coating capabilities, too
Another important part of the carton printing process at Boutwell Owens is the post-print coating that is applied by the in-line iCoat 30000 TWIN coater from Tresu Group. It includes two flexo units capable of applying spot, partial, or full-surface coating immediately after the printing stage. The result is a seamless, single-pass, sheet-fed print/coat operation that has built-in efficiencies in logistics, material waste, setup time, and handling.
"The double flexo stations provide an effective way of enhancing functionality and aesthetic impact with multiple combinations of UV-curable and water-based coating in one single process," says Soren Maarsso, CEO at Tresu Group. "The coater is an ideal complement to a digital workflow for high-end applications in cosmetics, pharmaceuticals, luxury food and drinks, and retail promotional packaging, especially where short runs, variable data, unique versions, or personalization are required."
Companies in this article