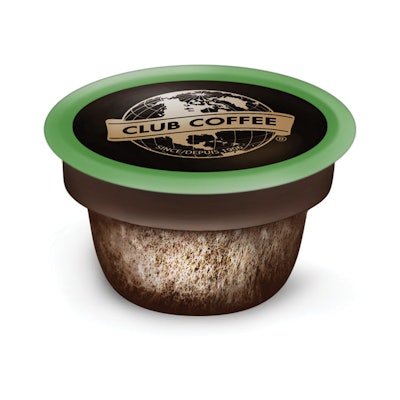 To address this staggering sum of wasted materials, Canadian coffee roaster and contract manufacturer Club Coffee is preparing to launch what is expected to be the world's first 100% compostable coffee pod—the PürPod 100—in fall 2015.
Says Club Coffee Senior Vice President, Innovation & Strategic Growth, Claudio Gemmiti, "There has been an explosive growth in the single-serve category over the past two years. Customers choose single-serve coffee because of its convenience, variety, and quality. Unfortunately, this growth has created big garbage, and consumers tell us they feel guilty. For this, and environmental reasons, we have developed what we expect to be the world's first 100-percent compostable, fully certified single-serve coffee pod. It was simply the right thing to do to satisfy this unmet need."
For two years, Club Coffee worked in partnership with The University of Guelph, Guelph, Ontario, to create a pod made entirely from bio-based materials, including the most innovative component of the package, the ring of the pod, which is made from coffee chaff—the skin of the coffee bean that comes off during the roasting process. The other two components of the pod are the mesh that holds the coffee, made from a nonwoven polylactic acid material, and the lid, constructed of a composite of paper and PLA.
While Gemmiti says Club Coffee investigated other environmentally friendly options for the pod, ultimately a compostable structure was determined to be the most sustainable and easiest for consumers to adopt. "Recycling a small plastic cup is problematic both at home and for municipal recyclers," he says. "Consumers are required to separate hot coffee grounds and wash the pod thoroughly, which is a chore. For municipal recyclers, the problem is the size. Small cups can't be sorted or processed, and end up being diverted back into landfills, even after consumers have spent time separating and cleaning them.
"We chose to focus on a solution that addressed the root of the issue, namely dealing with the different materials needed to make a pod, while finding a way to make it convenient and intuitive to dispose of the brewed pod." After use, consumers simply dispose of the entire pod in a compost collection bin.
In terms of consumers having access to composting, Gemmiti says that Canada's composting infrastructure and consumer involvement continue to rise each year; in 2011, 61% of Canadian households reported having participated in some form of composting. In the U.S., where the PürPod 100 will be launched later this year, he says Club Coffee is working with the U.S. Composting Council to recruit municipalities to accept the pod. Club Coffee is currently working on acquiring U.S. and international certifications and scientific validation for both at-home and municipal composting, with certifications expected within the next couple of months.
In developing the pod, one of Club Coffee's requirements was the pod's ability to run on existing equipment in its Toronto single-serve facility. Reports Gemmiti, "Although some small adjustments have been made, our lines will run the same process as we convert."
In the U.S., the PürPod 100 will initially be available for purchase from Kauai Coffee, Chock full o'Nuts, Hills Bros. Coffee, Copper Moon, Boyd's Coffee, and Paramount Coffee, with other customers in stages of evaluation and negotiation with Club Coffee. The PürPod 100 is compatible with most Keurig brewing systems, including the new Keurig 2.0 brewer.
Watch a video on the development of the pod at pwgo.to/1623.