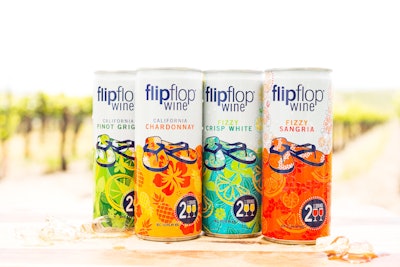 flipflop wines has taken its taken its collection of varietals launched in 2011 and packaged four of them in aluminum cans for enhanced portability and expanded usage occasions—the beach, the pool, the golf course, etc. Varieties include California Pinot Grigio and Chardonnay, and its new Fizzy Crisp White and Fizzy Sangria, with light carbonation.
"We think wine should be a fun and casual experience, and many Millennials feel the same way," says flipflop winemaker James Foster. "The cans allow drinkers to enjoy the wine almost anywhere, and they take wine to places bottles can't go. Cans also offer other advantages—they're easy to open, chill quickly, and hold temperature well."
Says Foster, flipflop is the only top-100 wine brand to offer its varietals in cans. In developing the new package format, the company put the can through comprehensive testing and conducted tasting panels to ensure the wine in the can tasted as good as its glass-bottled varietals. The final format is a 250-mL slim can from Ball lined with a "flavor guard," says Foster "that acts as a barrier between the wine and the interior of the can."
Another benefit of aluminum cans cited by Ball is that they are the most recycled beverage packages in the world and contain an average of 70% recycled content.
Graphics for the can were lifted from flipflop wine's bottle label and include a bright and cheerful color scheme with the central illustration consisting of—what else?—a pair of flipflops. While the upper half of the bottle has a crisp, clean white background, the bottom half is splashed with stylized illustrations of fruit and flowers in bright colors.
"We worked with several designers to help translate the flipflop bottle graphics to a can while ensuring consumers understood that the product was of exceptional quality," says Foster. "On the Fizzy cans, we added several cues to help communicate the effervescent nature of the product."
After a successful test in 2014, flipflop launched its product in cans in early 2015. Foster says retailers have been very excited about the cans, and the company has seen great distribution and activity in some of the nation's largest retailers. "Retailers are always looking for innovative new products to share with their shoppers," he says. "flipflop cans give them an alternative to the beers and malt liquors that are typically the only canned options.
"Not long ago, people would have scoffed at the idea of high-quality wine in a can, but we've always believed that wine should be approachable and easy to enjoy. We make flippin' good wine, and we're especially excited for drinkers to try our two new Fizzy offerings, whose refreshing effervescence really comes through after popping open a cold can."
Companies in this article