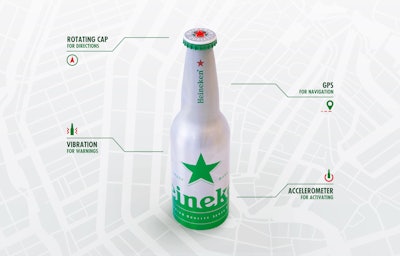 In May 2015, Heineken launched a promotion for the Heineken Experience—its former brewery transformed into an interactive experience—that had unsuspecting residents and visitors to Amsterdam following GPS-enabled bottles to its brewery doors. The bottles were staged in several places in the city center atop pillars that read, "Follow me." Those who were bold and curious enough to pick up the bottles activated a built-in compass mechanism. Once they began walking, the bottle vibrated, and the custom cap lit up red and swiveled to point out the route.
"Handing out flyers is not very Heineken, so we wanted to play on the brand's famous inventiveness, wit, and pioneering spirit and create something that stands out for potential visitors," says Dirk Lubbers, Heineken Experience Manager. "Last year, the Heineken Experience attracted over 730,000 people, a record. With our new GPS-enabled bottles, we are confident that we will be able to attract even more this year."
As Myriam Marouli, Heineken Experience Activation & Development, explains, two Heineken Club Bottles were used to ensure that the look and feel of the bottle stayed true to the original. The equipment, powered by custom-developed electronics from JWT Amsterdam, included GPS technology, a magnetometer, an accelerometer, a stepper motor, high-powered LEDs, and vibration motors. The equipment was held inside the bottle in a 3D-printed nest; the custom cap was also 3D-printed.
"These technologies working together as a whole enabled the bottle to determine where the user was located at any moment and made it possible for it to calculate which way to go," says Marouli. "Initially the bottle was in a resting state and when picked up, it woke up and notified the user of its desire to go somewhere. The cap spun, the arrow lit up, and the bottle vibrated to get ready to go on route."
During the promotion, Marouli says that more than 200 people interacted with the bottles: "Most of them were surprised, and all of them were excited and curious to know where the bottle would take them." See a video of the promotion.
Companies in this article