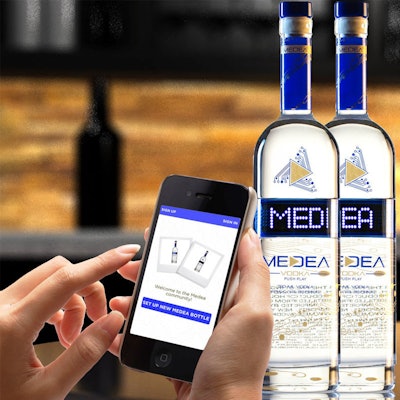 As the saying goes, "People love to see their name in lights." Taking this to heart, in 2007, Medea, Inc. of Pleasanton, CA, began working on patented technology for a vodka bottle with a programmable LED message band that lets consumers do just that. The bottle comes pre-programmed with six popular greetings—for example, "Happy Birthday," "Merry Christmas," and "Congratulations"—and can be programmed with custom messages that can scroll across the band for up to 45 consecutive minutes, with 20 hours battery time.
"Basically, we had an idea that we wanted to put something like Times Square on a bottle, to make it fun and interactive when you are drinking spirits," says Brandon Laidlaw, CEO of Medea.
Now, the company has taken interactivity a step further, enabling remote programming via Apple's iBeacon Bluetooth technology and a free Medea App that together allow consumers direct access to the bottle through their wireless devices. Launched in June 2015, each bottle comes with a unique identifier that the bottle owner can share with friends, giving them the ability to change, modify, or add messages to the owner's bottle. The App, developed in-house by Medea along with PeopleSoft, knows at all times which bottles are on, which ones are available to be registered, and which ones are ready to receive instructions for setting and displaying messages.
"It's kind of like Twitter on a bottle," says Laidlaw. "The new technology makes programming the bottle much more user friendly. You can send a message to a bottle within five seconds, just like a text message." And not only can consumers share access to their bottles with friends, but they can also directly post to their social media applications, including Facebook, Twitter, and personal e-mail accounts.
For Medea, the new technology serves another purpose. For the first time, the spirits company will be able to collect data on their customers, such as where the bottle is being used and how it is being used. "Now we can start seeing the personalities of our customers," Laidlaw says. "It's very important for us to learn about the demographic that's drinking our product."
The Medea bottle and electronic components are manufactured in China and sent to Holland for assembly and filling of the company's ultra-premium vodka. The product is distributed by Young's Market Company and is available online and at select Costco stores, for an average retail price of $40 per 750-mL bottle.