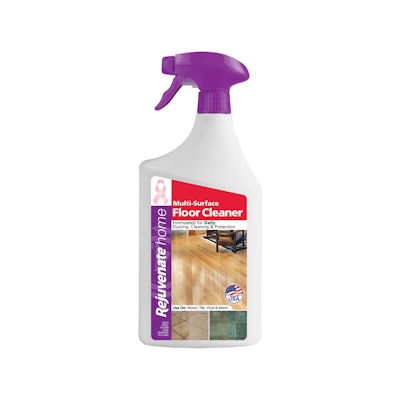 Eight years ago, after the rapid growth of its product line, For Life launched Rejuvenate in Home Depot, Menards, and other home centers and hardware stores as well as in mass-market retailers. In 2014, analyzing its sales data for future marketing planning, For Life found that shoppers in the retail environments in which its products were sold tended to choose lower-cost cleaning products for floors and cabinets over its more expensive Rejuvenate line.
"This presented an opportunity for us," says Jim Hampel, For Life Products Chief Operating Officer. "We developed Rejuvenate Home, a new line of floor and cabinet cleaning products made with the same level of quality as our restoration products, but targeted specifically at the mass retail market."
To add perceived value to its product for the more cost-conscious mass-market consumer, For Life decided to package the new products in slightly larger packaging. The new bottles also needed to maximize shelf space to meet mass retailer demands. Another important goal of the project was to differentiate the new products from its restoration products, while still leveraging the brand equity of the quality Rejuvenate product line. To help design new packaging to accomplish these objectives, For Life reached out to TricorBraun Design & Innovation Group, a business unit of TricorBraun.
"TricorBraun was very instrumental in achieving our goals," says company founder and CEO Joe McDonnell. "They worked closely with us to develop a clean, simple message to consumers––through both the bottle design and the label graphics––that lets us project the brand value of the Rejuvenate name while clearly identifying the products as cleaning products."
In addition to being larger, with 20-, 28-, and 34-oz sizes versus the 16- and 32-oz sizes of the restoration products, the new bottles are now white rather than the silver of the restoration line. The triggers and caps are in the signature Rejuvenate purple—the color used in its packaging and logo. The bottle design echoes the restoration bottle design, with a flat front billboard to capture consumer attention, but with a slightly more angular shape that accommodates the increased product volume.
"On mass retail shelves, products often get only one or two facings, and that front label has to capture attention immediately," McDonnell points out. "TricorBraun's design achieved that: The front panel is bright and eye-catching. It clearly distinguishes Rejuvenate Home cleaning products from Rejuvenate restoration products. When the consumer views the two bottles side by side, the difference is clear, yet the brand identity comes through."
It was also important that the package be comfortable and functional for women, as they are the primary users of the product. That consideration affected a number of the design choices. While larger-sized bottles projected more value, they couldn't be too heavy or unwieldy. Trigger sprayers, as well as the width of the bottles themselves, had to be designed to be comfortable for a woman's hand.
TricorBraun designed the bottle structure and built the molds; Multi Plastic Mfg. LLC (305/687-9990) manufactures the high-density polyethylene bottles. Bottle labels are supplied by Phenix Label, flip-top closures by MeadWestvaco, and trigger sprayers by Guala Dispensing.
The first Rejuvenate Home products began shipping in September 2014 to mass-market retailers, and initial sales have gone have gone well. For Life Products has also begun expanding its market further by introducing Rejuvenate Home into grocery stores.
Companies in this article