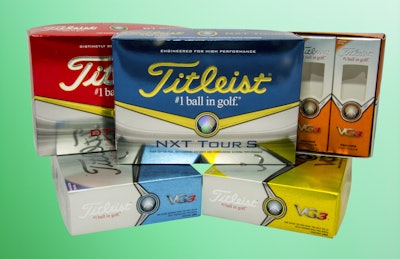 Hazen Paper Company has announced that it has been awarded "Product of the Year" from the Association of International Metallizers, Coaters and Laminators (AIMCAL) for a collection of transfer-metallized sleeves and cartons produced for global packaging of Titleist golf balls. Hazen was responsible for transfer-metallizing the cartons and contributed to the package development with brand owner Acushnet and Curtis Packaging.
Packaging of Titleist brands NXT Tour S, DT Solo, and VG3 feature new graphics on a chrome-like reflective surface made possible by Hazen's improved transfer coating, Enhanced Envirofoil. A harder polymer in the upgraded coating contains no VOCs, and provides a highly printable surface, improved scuff resistance, and a surface brightness of 850 measured on a scale of one to 1,000 on a Gardner Gloss meter. This enhanced coating also permitted prominent embossing on the VG3 packaging more distinct than possible on competing metallized stocks, explains Hazen. Each Titleist package also includes a holographic hot stamp and covert security features to discourage brand theft and counterfeiting.
According to Hazen, the carton stock also delivers environmental benefits. Envirofoil is recyclable as paper, and the company calculates source reduction of more than 350,000 pounds of aluminum and plastic compared to foil or film laminate. Hazen's metallizing process is powered by sustainable sources of electricity, while vertically integrated production reduces shipping and cuts process time and cost.
Judges noted the shelf impact of the sleeves and cartons, with one remarking, "There's almost a 3D effect" remarked one, and the integration of a number of features, including registered holography, spot varnishes, embossing, and built-in windows that contributed to "the message that it is a premium product," said another.
Companies in this article