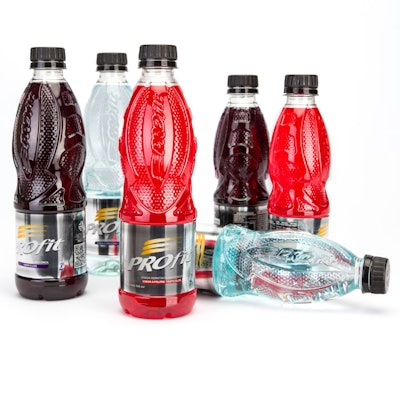 Amcor Rigid Plastics was the supplier behind the award-winning bottle, which is an injection stretch blow molded PET.
Amcor's Latin America design team, based in Miramar, FL, refreshed and revitalized Toni's hypotonic sports drink brand, transforming the previous standard cold-fill container into an iconic package that is aggressive, sporty, and modern. The 350-mL and 500-mL bottles feature a sport-infused look with a highly reflective and clean label with ghosted attributes. These are tied together with a hexagonal texturing feature on both the label and the container.
During the design process, Amcor looked to athletic equipment for inspiration, adding a texture to the container that mimicked sports apparel and footwear. The design incorporated hard reactive-looking shapes that replicated safety pads while sporting an aggressive and modern look with a new metallic label. Amcor also conducted extensive research to improve the functionality of the bottle. A benchmarking study concluded that a container with improved gripability, solid contact points, aggressive styling, and a bold statement were necessary elements for a highly competitive and athletic container.
One of the most difficult aspects of the design was creating a texture that was reproducible and that conveyed the appropriate athleticism to elevate the brand, said Klok. The hexagonal pattern offered a very strong and highly energetic appearance that was also reproducible in the stretch blow molding process.
Amcor is one of the industry's leading suppliers of PET containers for the sports beverage market and has worked extensively with Toni. Amcor created a totally new packaging experience for Toni, designing not just the bottle but also the label, while successfully meeting a highly demanding product/commercial development timetable.
One of the container's unique features is the lowered location of the labeling panel. This was done to make the bottle more stable in a bicycle water bottle holder. In addition, the lower label placement was useful in differentiating the bottle and disrupting the visual competition that occurs on the retail shelf. The innovative shape of the container also improved gripability with limited sight interaction and the textured surface also minimizes slipping.
The two injection-stretch blow molded containers feature a biaxially-oriented polypropylene (BOPP) wrap-around label. Toni's PROfit sports drink is sold at retail stores in Equador.
Companies in this article