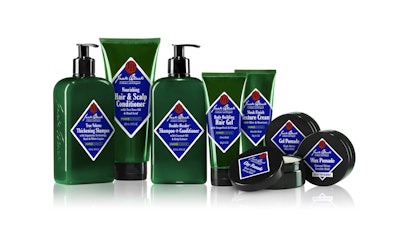 Men's grooming products company Jack Black LLC sells its extensive line of products through prestige department stores and specialty retailers. Since its founding in 2000, the company has taken a head-to-toe approach to grooming, but this year, the company is expanding its presence significantly in hair with the launch of a full haircare collection of eight products to complete its line. Jack Black began working on the package development for the new line in May 2014; products in the new packaging began shipping in February 2015.
"Our target is the broad audience of men looking to look and feel their best," says Emily Dalton, co-founder and Executive Vice President of Jack Black. "To appeal to those men, we focus on three principles, both in product formulation and in packaging: simplicity, quality, and masculinity."
Dalton points out that ever since the Jack Black brand was launched, the company has focused on packaging as an important visual branding tool to reach male customers. Many of its packages, for example, reflect visual cues from other categories that are distinctly masculine, such as premium liquor bottles or cigar labels. It also favors packaging that is convenient for men to use in multiple settings––at home, the health club, while traveling, etc.
As it prepared to launch the new haircare line, Jack Black chose TricorBraun Design & Innovation Group, a business unit of TricorBraun, to design the packaging for those products. In the end, the design of the new shampoo bottle was so striking that the company redesigned some of its existing bottles to project the same look for its core line of shaving and skincare products.
The new packaging is a 16-oz PET bottle in the shape of a flask in dark green, topped with a black pump closure. A distinctive feature of the new bottle is an embossed script Jack Black "signature" molded into each side panel. Accommodating this signature challenged the TricorBraun designers, since creating side panels large enough to carry the signature comfortably limited the breadth of the front panel, which Jack Black wanted to maximize for shelf presence. But the final design is well balanced and delivers the desired impact.
"This design produced exactly the effect we wanted," says Dalton. "The package is both visually and tactually appealing, and is distinctively masculine in its size, shape, and color."
The bottle is produced in 3.3-, 8.5-, and 16-oz sizes. The new flask shape is now also used to package Jack Black's skincare products, replacing earlier stock Boston round bottles, and significantly enhancing its shelf presence. The skincare products are packaged in a rich cobalt blue, which enables shoppers to immediately distinguish them from the green haircare packaging.
The signature Jack Black skincare and haircare packaging is labeled with a diamond-shaped pressure-sensitive label (reminiscent of a premium liquor label) that was originally designed by Jack Black. The company collaborated with TricorBraun to optimize the design and maximize its visual impact on each different package type. The label carries the Jack Black signature and is embossed with a red JB monogram that suggests an antique wax seal. Product and use information is screen-printed on the back of the bottles.
The complete new Jack Black haircare line also includes products in tubes, decorated via screen printing, and in jars sourced by TricorBraun, which have the diamond label design pad-stamped on the lids.
"TricorBraun designed and produced these packages very efficiently," says Matt Kusmierz, who leads packaging development at Jack Black. "We are a small, lean company, and we have to move quickly. Their responsiveness not only enabled us to achieve our marketing goals, but also matched our aggressive timing."
Companies in this article