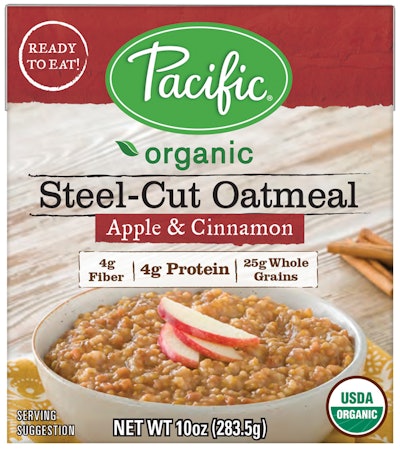 The drawback of this type of oatmeal is its cooking time—up to 30 minutes compared with the two to three minutes required for rolled or instant oatmeal. To provide consumers with a way to prepare steel-cut oats in minimal time, Tualatin, OR-based Pacific Foods has developed ready-to-eat Organic Steel-Cut Oatmeal in five varieties, packaged in a retort carton.
"Pacific Foods strives to provide products that nourish and increase access to healthy, wholesome foods for kids and families alike," says Pacific Foods Associate Brand Manager Jen Anderson. "The Organic Steel-Cut Oatmeal was created to fuel consumers on busy mornings, providing them a breakfast solution that is packed with protein, fiber, and heart-healthy whole grains in less than two minutes. Keeping in mind that consumers usually don't have the half hour or more it takes to prepare traditional steel-cut oats on early mornings, Pacific's ready-to-eat steel-cut oatmeal is a pantry staple, on-hand when needed."
The product, planned for launch in April 2015 (as of presstime), is slow-cooked in small batches, explains Anderson. "Maintaining the consistency and delicious heartiness of the steel-cut oats was a critical factor," she says. "We wanted to make sure that we maintained the heartiness of the steel-cut oat without sacrificing texture."
The heat-and-eat product is then packaged in a 10-oz Tetra Recart retortable carton from Tetra Pak constructed of three layers—paperboard, film, and aluminum—that seals in the liquid, protects the product from external moisture, and preserves the flavor and texture of the product.
Says Anderson, "Aside from the benefits of sustainability and recyclability, this packaging allowed us to take a traditional, time-consuming breakfast item and deliver it to the consumer as a shelf-stable pantry staple, fully cooked and ready to eat, with no additional ingredients needed."
Graphics for the packaging were designed in-house and were created to draw attention to the product's key point of difference: its use of steel-cut oats. "The food photography and the hierarchy of the product name are used to convey a difference in texture compared to traditional instant oatmeal," Anderson explains. "Additionally, Pacific Foods is focused on creating nourishing foods, so fiber, protein, and whole grains were brought to the forefront to elevate nutritional attributes. We utilized the back of the package to spark creative ideas on how to boost nutrition at breakfast, specifically showcasing the pairing of oatmeal with Pacific's non-dairy beverages to achieve the benefits of higher protein."
While the product has not yet been launched, Anderson says there is a lot of buzz around heat-and-eat oatmeal, given the growth trends in hot and customizable breakfast options as well as increases in on-the-go and desk-based breakfasts. "Consumer research has shown us that the product attributes—for example, protein levels, heart-healthy whole grains—are top of mind for our target consumers, and the percentage of consumers who felt our product met or exceeded their expectations has met our internal benchmarks."
Pacific Foods' Organic Steel-Cut Oatmeal will be available at natural and conventional grocers nationwide for $2.99 per carton.
Companies in this article