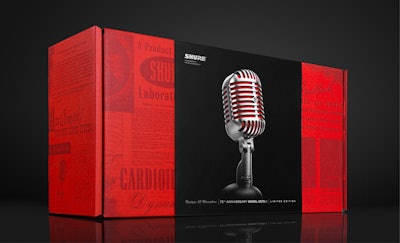 Since its introduction in 1939, some of the most celebrated entertainers, celebrities, and politicians of their time have used Shure Inc.'s iconic Model 55 Unidyne microphone. Among them, Elvis Presley, Frank Sinatra, Buddy Guy, President John F. Kennedy, and General Douglas MacArthur. To celebrate the microphone's 75th anniversary, Shure created a commemorative version of the 55 Unidyne, the Model 5575LE Unidyne, that replicates the original design, with improvements in durability and sound quality. For such a special limited-edition item, Shure wanted a packaging design that would capture the famed history of the audio product.
In April 2014 Shure approached MiresBall—a design agency with several successful Shure packaging projects to its credit—to develop the anniversary package and its graphics for a December 2014 launch. To capture the spirit of the brand, MiresBall took inspiration from archival Unidyne packaging and advertising graphics, using them to decorate the standard, corrugated carton used by Shure.
"Shure microphone packaging typically comprises white corrugated cartons wrapped by individual C1S printed sleeves," explains MiresBall Partner/Creative Director John Ball. "For the Model 55, we designed a short-cut sleeve that reveals a printed design on either side."
The corrugated rock end tray with locking cover is printed in a PMS red, inspired by the red foam that shows through the 55 Unidyne microphone grill, with the archival graphics in darker PMS red wrapping the entire box. The short-cut sleeve, or belly band, provides a dramatic contrast, with a black background and a detailed photograph of the microphone. The sleeve is printed in four-color process with a semi-gloss coating.
Offered for $399, the limited edition production run of 5,575 Unidyne 55 microphones was sold out at presstime.