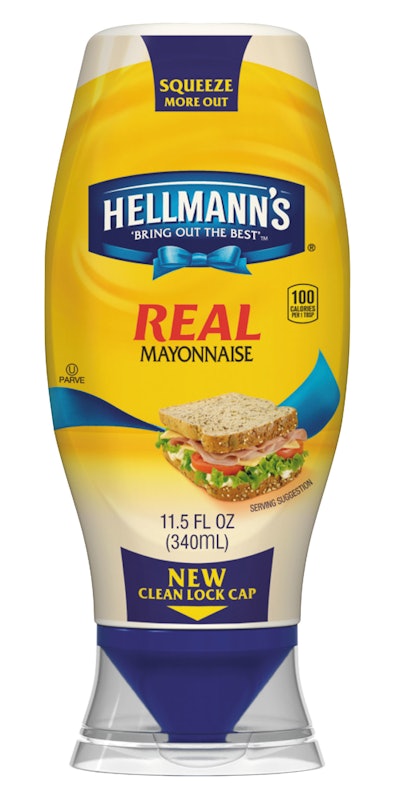 Americans have been missing out on all their mayo. According to Unilever, in 2014, more than 1,000 lb of its Hellmann's Mayonnaise was trapped inside their squeeze bottles. But with the brand's new and improved squeeze package, consumers will be able to dispense the last drops of product from their mayo bottles.
"While consumers love the convenience of squeeze bottles, they are not without their frustrations," says the company. "The number-one complaint about our old bottles was that mayonnaise would stick to the inside, and consumers had to shake, bang, or even cut open the bottles to get the last of the Hellmann's out. That's why we decided to design a new bottle that would make it easy to 'Squeeze More Out!,' as well as add additional benefits like a clean-lock cap for less mess and a precision tip for more control."
The bottle is an inverted PET structure that sits on a flared polypropylene cap consisting of two components—the precision tip in blue, and a clear, flip-top overcap. Sidel developed the custom bottle molds, with the package supplied by Alpla. Ermo Group created the custom molds for the caps, which are supplied by Aptar. The bottle is decorated with a full-body shrink-sleeve label converted by Fort Dearborn.
Among the notable features of the bottle, the new tip is angled to enable more control and more precision of mayo dispensing; the Clean Lock Cap is designed to stay clean; and the improved bottle design offers proprietary technology that helps squeeze more mayo out. Packaging World speculates that the proprietary technology could be based on that used for Hellmann's Easy Out! package, launched in 2007 with a special non-stick surface on the inside of the bottle featuring enhanced slip properties.
According to Hellmann's, the biggest challenge involved with the new package development was producing enough stock at the factory to last during the changeover to the new bottles.
The new squeeze bottle is being used for 18 SKUs, including three Hellmann's and three Best Foods' mayo, tartar sauce, and Dijon mustard varieties. Bottle sizes include an 11.5-, a 20-, and a 25-oz club-store size, which replace Hellmann's former 9-, 16-, and 22-oz squeeze bottle sizes.
Companies in this article