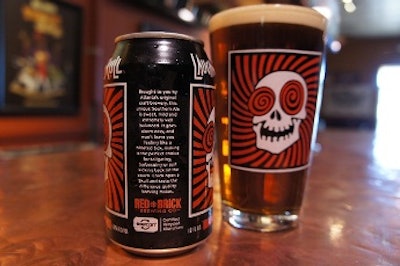 Red Brick Brewing Company, Georgia's oldest operating craft brewery, has announced that it will now offer its beer in aluminum cans made from Novelis' evercan™ from Novelis, the world's first certified high-recycled content aluminum can sheet. 
Red Brick will expand its beverage packaging options to include evercan aluminum cans for all of its year-round offerings, beginning with Laughing Skull Amber Ale, and followed by its signature Hoplanta India Pale Ale in March 2015. Red Brick plans to expand its use of the new packaging line, introducing several new styles available exclusively in evercan in the coming year, starting with its new spring seasonal Hibiscuwit, a Belgian Wheat Ale.
"Our decision to expand from glass bottles to evercan aluminum cans aligns with our goal to be an environmentally responsible leader in the southern U.S. craft beer market," says Garett Lockhart, head brewer for Red Brick. "With evercan, we can achieve greater sustainability without sacrificing any aspect of the beer's quality."
The brewery has also partnered with Novelis on a closed-loop recycling system for their used beverage cans. The cans are collected straight from the brewery and are returned to a nearby Novelis recycling center, where the high-recycled content evercan material is recycled back into new evercan sheet for reuse, again and again.
"We're finding that environmentally minded brands, and craft brewers in particular, are looking for a more sustainable packaging to help reinforce their brand profiles and further differentiate their products from the competition," says Bruce Maclane, Director, evercan Craft Brew Sales, Novelis. "Red Brick is one of several craft brewers that will be coming on board with evercan in 2015."
The evercan is made with a minimum of 90% certified recycled aluminum. Notes Novelis, recycling aluminum requires 95% less energy and produces 95% fewer greenhouse gas emissions than manufacturing primary aluminum. Introduced in 2014, Novelis' evercan is available to beverage companies globally.
Companies in this article