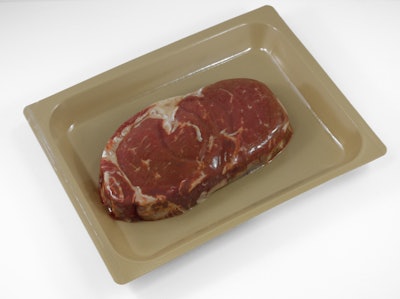 At the request of a major regional retailer, J&G Foods tested a 9-mil eco Plastic bottom web from Plantic and discovered it ran as well or better than the incumbent material. "We were impressed with the performance, particularly the extra shelf life and ease of processing," says J&G Goods Maintenance Manager Wayne Morin.
"We take tremendous care to produce the highest quality products in the most efficient manner possible for our customer partners, and Plantic packaging helps us do that," says Joe Piperato, J&G Foods President. "We believe in the benefits of this packaging and are exploring rolling it out to other customers."
Plantic eco Plastic rollstock is made using a proprietary starch technology so that starch rather than petroleum-based materials constitute about 80% of the total package structure. Plantic says it uses up to 40% less energy to produce these eco Plastic trays compared to trays made of conventional ethylene-based polymers. The extremely low oxygen transmission rate of eco Plastic material can extend the shelf life of fresh foods depending on the application.
"We're excited to be working with a strong partner like J&G Foods, and we look forward to extending the use of our bio-based ultra high barrier material in applications for their other retail partners," adds Tom Black, Plantic President of International Business.
Companies in this article