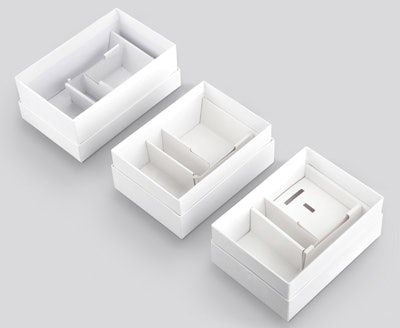 Sweden-based Doro Group is a Nordic telecom leader. The company has chosen to take up the challenge to trail-blaze products, packages, and software specifically suited for senior users, including those who may have dexterity or memory problems or vision or hearing impairments. In October 2014, Doro launched its Android-based Doro Liberto® 820 smart phone in easy-to-open packaging to accommodate seniors. Average retail price is about $400 (US$). This is not inexpensive. But Doro believes that the phone's super-simple-to-use interface, helpful remote access, and senior-friendly packaging will help elevate sales.
Doro worked with Shanghai headquartered Swedbrand to develop the senior-friendly packaging. After design briefings with the Doro team, Swedbrand developed the box design, then handed over the confirmed artwork to Doro and their suppliers to produce the packaging. Swedbrand offers expertise in brand building through unique, flexible, and accessible packaging solutions. The company can help clients with production and logistics. But for the Doro project, it was totally a packaging design assignment.
While most cell phone packaging and unpackaging is geared toward younger, more dexterous consumers, Swedbrand focused on making all components of the Doro Liberto 820 packaging much easier to open without sacrificing packaging security and integrity. Simplicity and quality were key package design criteria.
In October 2014, the new "frustration-free" packaging was launched in seven markets and seven languages. Eco-friendly pulp fiber and paperboard-based packaging components with scored/perforated seals include a tray, lid, bottom, inner collars, phone mold, accessories divider, sleeve, and instructions envelope.
Among the several, senior-friendly, easy-open features are the easy slide-off outer sleeve (making the phone immediately visible), easy lift-top lid to reveal instructions envelope, and easy lift-tab to remove the phone from the tray. There are no hard plastic blisters or heavy glues to attack with knives or scissors.
Calle Krokstade, GM for Doro Hong Kong Ltd., notes, "The packaging component suppliers are considered proprietary. But we can tell you that the 'slide-out' packages are primarily assembled on line with some semi-automatic and manual work. The phones are manually loaded into the packaging. We wanted a new concept gift box for our Doro Liberto 820 Smartphone. We wanted a simple, high-quality package that is premium and modern, while still addressing the easy-open functionalities required by our senior target group. Swedbrand succeeded in creating a truly unique gift box that we are satisfied with and proud of."
Companies in this article