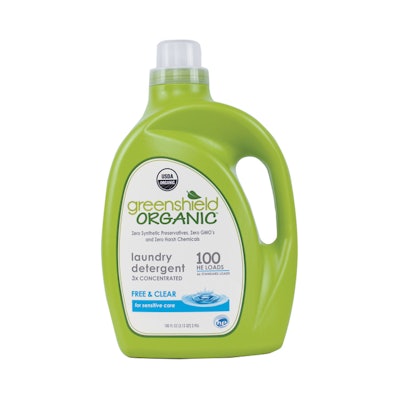 It's funny how having children can propel a new parent to begin questioning and evaluating consumer products that until that point they had taken for granted. More and more it seems that parents of young children have become the innovators of today's more healthful, safer, and sustainable products. Greenology Products, Inc.—a maker of the first USDA Certified Organic household cleaning products and detergents, based in Raleigh, NC—is no exception.
Explains Greenology President & Founder Adam McCarthy, "As a father of three small children, I was concerned about the overabundance of caustic and carcinogenic ingredients commonly employed by most conventional cleaning products… . So we [Greenology] developed the most pure and efficacious products available by creating the first and only complete line of certified organic cleaning products under our brand, GreenShield Organic."
In January 2015, Greenology took its commitment to creating products "made with the utmost concern for People, Pets and our precious Planet!" one step further, introducing new high-density polyethylene packaging for its entire product line that is made from 50% post-consumer recycled material and 50% sugarcane ethanol-based material supplied by Braskem.
"Like most suppliers, we had been using petroleum-based HDPE resin, but we made a conscious decision as a company to change the source material so that we would be better stewards of our global environment," says McCarthy. Braskem's Green Polyethylene is not only made from renewable materials, but it also offers the same functionality as conventional HDPE and is 100% recyclable.
Front-end benefits
Greenology's GreenShield Organic line comprises 16 SKUs, including kitchen and bath products such as glass, counter, toilet bowl, and carpet cleaner, among others, and a range of laundry detergents—formulated initially with kids and pets in mind.
"If you think about how much crawling on the floor infants do and how frequently they rub their eyes or suck their thumbs—oftentimes after mom or dad has spot-cleaned a carpet or sprayed something on a surface—these children are indirectly ingesting these chemicals or are coming in contact with them dermally," says McCarthy. "The clothes touching their skin daily are often washed with ingredients that are known to cause respiratory, reproductive, and allergy-related issues, among other ailments. The same exposures happen to family pets. This was all unacceptable to me."
McCarthy's solution was a line of household cleaning products that today are not only USDA Certified Organic, but also Ecocert and Ecocert ICO certified, as well as certified Cruelty Free by People for the Ethical Treatment of Animals (PETA).
GreenShield Organic cleaners are sold nationally in supermarket retailers that include Whole Foods Market, Costco, Sprouts, Food Lion, Giant Food, Earth Fare, and others. According to McCarthy, the company's goal has always been to make organic affordable, thus its products are priced on par with or below most national brands.
In 2013, Greenology approached Braskem about its sugarcane-based plastic, after having experimented with flexible packaging and found it wanting. "We shipped laundry detergent in a retort pouch for about two years, but it just never gained traction," explains McCarthy. "The concept was good and offered a solid waste reduction of 80 percent versus plastic bottles, but not enough consumers were ready for liquid laundry detergent in a bag."
Part of the appeal of Green PE says McCarthy was its use of carbon-neutral, renewable sugarcane. As he explains, with petroleum-based plastic, for every one pound produced, 1.83 pounds of carbon dioxide are emitted into the atmosphere, contributing to the greenhouse gas effect. However, for every one pound of sugarcane resin produced, 2.14 pounds of carbon dioxide are captured from the atmosphere. "This is a carbon-negative material, which is immensely impactful," he says.
"It has always rattled me that 74 percent of all non-food plastic bottles are not recycled [Consumer Reports-Green Report]," McCarthy adds. "So while we cannot force consumers on the back end to recycle bottles after use, we do have a choice as a supplier on the front end as to the source material we employ in our packaging, and we have chosen not to purchase virgin, petroleum-based resin."
Seamless transition
Upon first meeting with Braskem, Greenology set forth its expectations for the new material, specifying a blow-molding grade—an easy request to fulfill, relates Joe Jankowski, Braskem's North American Green PE Commercial Manager, as Braskem offers approximately 30 grades of HDPE, low-density polyethylene, and linear LDPE material formulated for injection molding, blow molding and tubing, and fiber extrusion.
Braskem's Green PE is considered a "drop-in" plastic, or a bio-based material that features the same properties and functionalities as a fossil-based material, and can be processed, used, recycled, and recovered in the same way as conventional PE. Therefore, in making the switch to the new material, Greenology was able to use the same bottle molds as it had been using previously for its 24- and 32-oz cleaner bottles and its 50-, 60-, and 100-oz laundry detergent bottles.
As noted, among the advantages of Green PE is that it is made from a carbon-negative material. As Jankowski explains, during sugarcane cultivation, the plant captures CO2 from the atmosphere through photosynthesis. After harvesting, the sugarcane is sent to mills that convert it to ethanol and sugar. The bagasse from the sugarcane is then used to make bioenergy to meet the needs of the production process as well as part of the energy demands of nearby cities.
From the mills, the ethanol is transported to Braskem's 200,000 ton/yr-capacity Green PE plant in Brazil, where it is converted into ethylene using a proprietary process developed by Braskem. The final step, the conversion of ethylene to polyethylene, follows the traditional process used for fossil-based resins.
According to Braskem, 200,000 tons of Green PE annually represents an 800,000-ton reduction of CO2 in the atmosphere, which is equivalent to the annual emissions from 800,000 cars or the CO2 emitted annually by the energy consumption of 200,000 families.
In terms of water consumption, Jankowski explains that the only water required to grow sugarcane is rainwater, while the water consumption of Braskem's Green PE operations is no more than that of other industrial plants. "We also continue to search for ways to reduce our water consumption at all of our plants as part of our ongoing continuous improvement initiative," he adds.
The sugarcane harvested for Braskem's PE is grown in Brazil—the world's largest sugarcane producer. Responding to critics who raise concerns about the use of arable land for plastics, rather than food, Braskem explains that there are 851 million hectares of land in Brazil, 355 million of which are available for agriculture. Currently, just 1% of arable land is planted with sugarcane, with only 0.02%, or 65,000 hectares, used to make Green PE. Confirms Jankowski, "The capacity that we have at our Brazil plant doesn't impact arable land at all."
Consumer appeal
In addition to its organic certifications, Greenology has another icon that it can now add to its packaging: the I'm green™ seal from Braskem. According to Braskem, the seal can be used by clients at their discretion, "however its use must be accompanied by communication of the renewable content of the product or packaging verified based on C14 analysis in accordance with standard ASTMD6866."
McCarthy says that every GreenShield Organic bottle includes a hang tag that reads, "This bottle is made from Sugar Cane," appealing to consumers seeking greener packaging. "In the natural/organic channels, this type of packaging is very important, but even with traditional shoppers at retailers like Costco, they want to feel good about the entire investment they make in a purchase, inside and outside the package."
Besides helping him sleep better at night, McCarthy says the switch to Green PE will prove a positive differentiator for the brand: "It separates us from all of our competitors who rely on petroleum-based resin. We wanted to take a leadership position on this issue, and partnering with Braskem accelerated that goal."
Companies in this article