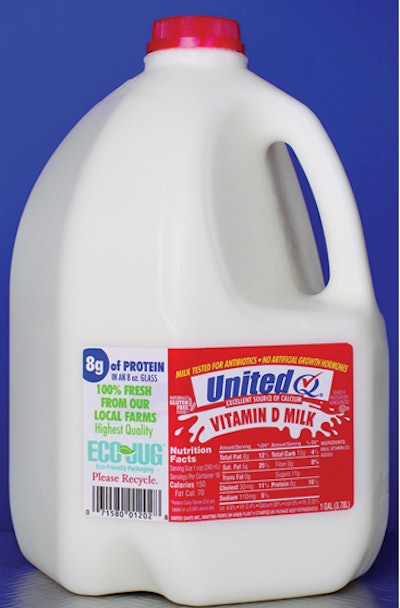 United Dairy, Inc., an independent, family-owned business with processing/packaging plants in Martins Ferry, OH, Charleston, WVA, and Uniontown, PA, markets milk, juice, tea, punch, and water products in light-weight 1-gal bottles developed and patented by Mid-America Machining. The dairy, which sells branded and private label products to retailers in 9 States (Ohio, Pennsylvania, New Jersey, Kentucky, Virginia, West Virginia, North Carolina, South Carolina, and Maryland), decided to brand the 1-gal container as ECOJUG™.
Mid-America Machining specifically developed the bottles to reduce the amount of HDPE needed to produce reliable packaging, while also minimizing the operational line changes users would need to make to accommodate the lighter-weight containers. The average traditional 1-gal HDPE dairy bottle weighs about 60-62 g. The 1-gal ECOJUGS weigh 52 g each. These jugs also are designed to be easier to grip, vent, and pour. ECOJUGS are produced using 6-head extrusion blow-molding equipment (Model 350 R) from Uniloy.
Peter Lobbestael, VP of Sales for Mid-America Machining, explains, "The minimum wall thickness of the previous jug has been maintained. The focus of the packaging material reduction was to eliminate unnecessary thicker areas inherent in the old jug design. This goal was achieved through a combination of the new patented bottle design geometry, as well as the patented extrusion tooling design. The new cavity geometry maintains the dairy supply chain envelope, while limiting the amount of parison stretch required. This enables us to re-establish what is achievable with the weight-to-strength ratio for light-weight HDPE bottles. The result is a much more uniform wall thickness distribution, and refrigerated shelf life protection has not been compromised."
United Dairy began a limited trial of the light-weight 1-gal jugs in 2012 and received positive feedback from in-store consumer polling. So in January 2013, the dairy initiated full implementation of the ECOJUG at all three of its plants. Now, United Dairy has produced more than 80 million of the new jugs and saved about 1.7 million lb of HDPE.
The jugs are filled and torque-capped using equipment from Fogg Filler and Federal Manufacturing Co. The injection-molded LDPE caps are supplied by Silgan. Multi-colored pressure-sensitive paper labels are printed by WS Packaging Group, Inc., who also supplies the label application equipment. Plastic shipping crates are from Orbis.
According to Tim Griglack, Director of Operations for United Dairy, "The ECOJUG has performed very well with our standard Silgan Closures neck finish and has been very well received by retailers and consumers. The jugs are blow-molded on our existing equipment, which did not require any modifications other than installing the Mid-America-designed and patented molds and tooling. And we've actually increased production throughput while simultaneously improving other operational efficiencies, such as enabling larger billboard label space to include messages about the health benefits of the product and the environmental benefits of the packaging. No labeling systems modifications were required to accomplish this."
In addition to the extrusion blow-molded high-density polyethylene one-gal jugs, Mid-America Machining also has patents on 1∕2-gal, quart, and pint-size bottle designs and tooling. Since the success with the 1-gal jugs, United Dairy is considering integration of the entire family of bottle sizes into its packaging repertoire over a period of time.
United Dairy VP of Sales & Marketing James Carson notes, "After two years of experience, it is clear that the market has embraced the new bottle. We have been pleased with the ECOJUG's acceptance by retailers and consumers. Another huge reason we like this container is that it has effortlessly adapted to the packaging lines in all three of our plants—from blow-molding through conveying, filling, capping, labeling, loading, and shipping. And quality control has been enhanced because the extrusion blow-molded bottle weights are more consistent with the ECOJUGS."
To see a spin + zoom 360° photo, click here.
Companies in this article