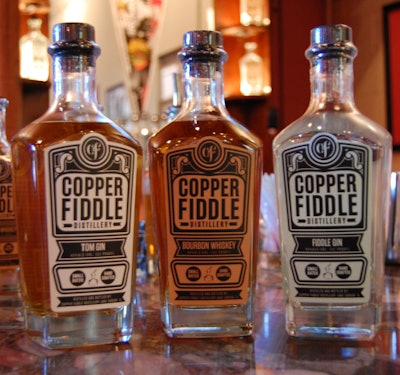 Copper Fiddle Distillery of Lake Zurich, IL, has selected a unique bottle design to generate buzz for its whiskey and gin products. Copper Fiddle is the first in North America to use the glass bottle style—the Imperial, part of O-I's Covet Classics luxury collection—which it finds an ideal fit for its Bourbon Whiskey, Tom Gin, and Fiddle Gin.
"The uniqueness, simplicity, and four-sided appeal of the Imperial bottle make it perfect for showcasing the beauty and quality of our spirits line, which is available at our tasting room in Lake Zurich [as well as at some Chicago-area bars and restaurants]," says Fred Robinson, Proprietor, Copper Fiddle Distillery. "Working with O-I helped us find the right presence for our brand without sacrificing our ability to get to market according to plan."
Accentuating the design, custom labeling and a black cork add a modern attitude to the classic decanter-style bottle. In addition to receiving a positive response from the guests who visit the facility for tours, the striking package has also drawn the attention of consumers further afield. "Our bottle caught the eye of producers in Hollywood, who saw it in media coverage and called to talk to us about product placement opportunities," says Jose Hernandez, Copper Fiddle Proprietor. "Receiving this much attention is an incredible advantage for us."
Hernandez and Robinson, long-time friends and neighbors, founded Copper Fiddle after changes in Illinois state law embraced the craft spirits movement, making it possible for them to turn an interest in distilling into a business venture.
Copper Fiddle's name and company logo reflect a family heirloom—a copper-colored violin handed down through the family of Jose's wife, Nancy Rieger Hernandez. Now 107 years old and sounding better with every passing year, the fiddle has taken on a new life representing Copper Fiddle Distillery. The connection between Copper Fiddle's craft spirits and the expertly made violin is more than symbolic—age is a valued companion for both the spirits and the fiddle.
As the company ramped up to a commercial launch, Copper Fiddle needed packaging that reflected their vision and would not sacrifice speed-to-market or require the higher risks of big volumes. O-I's Covet Classics collection delivered, with timeless cosmetic flint bottle designs available in a variety of sizes for orders as small as one pallet at a time.
Companies in this article