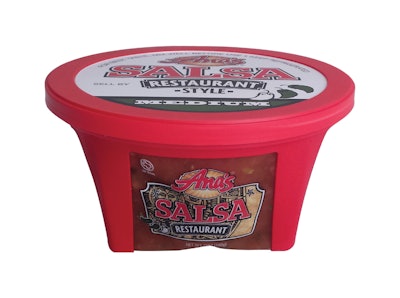 Austin, TX-based Ana's Foods has become the first company in North America to utilize IPL's SkinnyPack™ Technology container, using it to package their latest fresh salsa, Ana's Salsa Restaurant Style. SkinnyPack is a thin, yet strong packaging technology that fuses a flexible, printable film to a sturdy, rigid frame.
According to IPL, SkinnyPack is environmentally friendly due to the reduced use of plastic when compared to standard plastic food containers, and is 100% recyclable. By using the container, Ana's Foods will reduce their use of plastic by 50%, contributing significantly to their sustainability efforts. Additionally, the use of IML high-definition graphics will create greater shelf appeal for the salsa product.
In recent weeks, Ana's Foods says it has been gathering consumer comments and reactions to the new container. Notes the company, 85% of people surveyed liked it and said it attracted enough of their attention to generate a purchasing intent.
"The close collaboration between IPL and Ana's Foods resulted in bringing a unique innovation from the concept stage to the consumer in six months," says Joel Sergerie, Product Manager at IPL. "This collaboration combined with IPL's capabilities has been a win-win situation for both companies in achieving their speed to market goals."
Companies in this article