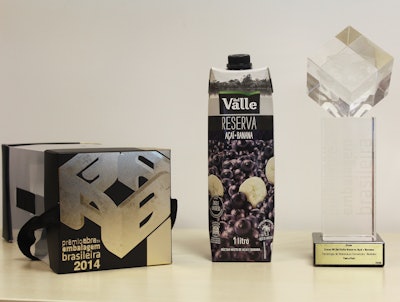 Coca-Cola's Del Valle Reserva brand of juice has won the Technology in Beverage Packaging prize at the 2014 ABRE Awards for being the first brand to use Tetra Pak cartons with bio-based low-density polyethylene films derived from sugarcane.
"Tetra Pak has been characterized by its expertise and leadership in renewable resources. The packaging with green technology is part of that. Our participation in this innovative process, with Del Valle, is also the result of the environmental vision already incorporated into the DNA of Coca-Cola. The partnership with Tetra Pak puts us, once again, in front of the most modern and sustainable in the packaging sector," said Rino Abbondi, Technics & Logistics Vice-President at Coca-Cola Brazil.
The Del Valle juice in Tetra Prisma® Aseptic 1000 cartons reaches more than 200 million Brazilian consumers every year.
Following the successful pilot with Coca-Cola's Del Valle brand at the beginning of the year, Tetra Pak has introduced cartons with bio-based LDPE to all 150 customers that source from Tetra Pak Brazil since April—a total of more than 13 billion packs every year. Combined with paperboard, the use of bio-based LDPE increases the content of renewable materials to 78% in the Tetra Prisma Aseptic package used by Coca-Cola.
Produced by Braskem, the bio-based LDPE used in Tetra Pak cartons has the same physical and chemical properties as the traditional fossil-fuel-derived polyethylene, Tetra Pak says.
The 2014 ABRE Awards competition is organized by the Brazilian Packaging Association (ABRE) and is designed to recognize quality, technology, design, functionality, and innovation within the packaging industry.
Companies in this article