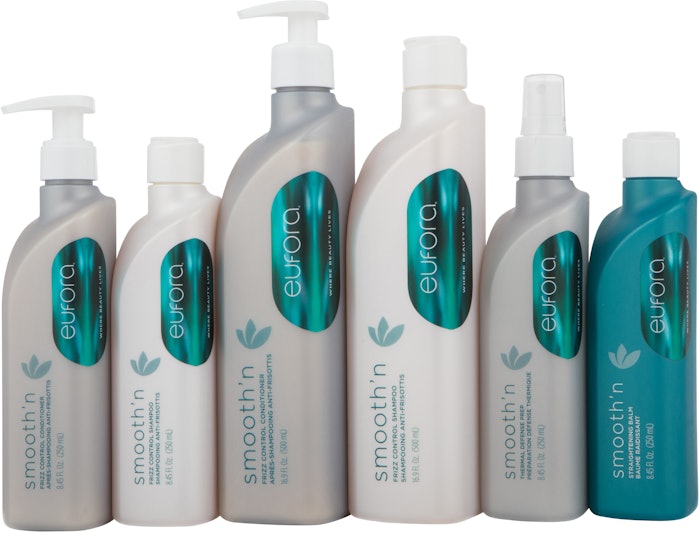 A maker of people- and planet-friendly hair care products for the professional salon market, Eufora Intl. of Vista, CA, has experienced steady growth in its market reach and product lines since being launched just over 10 years ago. According to co-founder and CEO Beth Bewley, in its first decade, Eufora has earned a reputation for eco-friendly product formulations created with a balance of science- and plant-based technology.
In 2013, the company undertook a reorganization of its hair care product lines from traditional functional groupings—such as cleansing, conditioning, styling, and finishing—into distinctive, branded collections. These include Curl'n, a regimen for all types of curly hair that includes seven different hair care products; five Smooth'n products to smooth and soften hair and control frizz; Nourish, a line of eight formulations to nourish, strengthen, and protect hair; and three Volume products to "amplify, define, and lift lifeless hair."
Explains Bewley, "Each Eufora product is now part of a Performance Promise collection brand. Each collection brings together a group of products that contribute to that collection's central Performance Promise."
As part of the extensive realignment of its existing product lines, the company redesigned its packaging with the help of TricorBraun Design & Innovation, creating a sophisticated new structure that provides a fresh, new look for the brand while capitalizing on its established brand equity.
Distinctive but familiar design
In late April 2013, Eufora began its collaboration with TricorBraun, with Bewley and Eufora Design Director Derek Hutcheson working closely with the TricorBraun team to create a unique new bottle structure. Eufora's existing, custom package was a square, white, high-density polyethylene bottle with soft corners, decorated with a pressure-sensitive label that wrapped around two sides of the package. The bottle was topped with a custom closure, molded with Eufora's trademark leaf logo.
Eufora's directive to TricorBraun was to create a package that would be distinctive from its existing bottle, yet not so different that it no longer looked like a Eufora product. The products are sold via distribution to salons, which use the product in-house as well as sell to customers, so it was critical that both stylists and customers recognize that the new Performance Promise collections were part of the Eufora brand.
"The project began as a custom design for a bottle for hair care products," relates TricorBraun Industrial Designer Samantha Juna. "We knew the customer was currently in a square bottle and was looking for a new and exciting package to differentiate it from competitive products. Yet, from our initial meetings, we also learned they wanted to be cautious about swaying too far from their original look, since it was very recognizable to their consumer. They felt that an evolutionary, versus revolutionary, shape would be more appropriate."
The only requirements in terms of the package shape were the product fill sizes—250 and 500 mL—"but overall dimensions were left fairly flexible for the design process," Juna adds.
Waterfall concept
After presenting several design concepts to Eufora, TricorBraun introduced one with a "waterfall" feature that led to the final design. "The result was an evolutionary look for the bottle plus a design element around which to create distinctive decoration and labeling," says Hutcheson.
The waterfall design takes Eufora's classic square footprint, but refreshes it with a sweeping "waterfall" that runs diagonally across the front face of the bottle. The finished concept has a simple, elegant profile, with four distinct panels for decorating or labeling. It also scales easily to other sizes.
Bottles are topped with either a stock flip-top closure from Giflor or with a dispensing pump from Aptar or MeadWestvaco.
According to Bewley, the only manufacturing challenge related to the waterfall design was that the most efficient way to mold the bottle would have left the mold parting line running directly through the waterfall face—the most visible space on the bottle. However, since the molds were built at TricorBraun's Cal-West Tool & Mold facility, the supplier had control over the mold design and was able to make the line virtually invisible. Bottles are molded in HDPE by Classic Containers.
"In the finished bottle, if you didn't know where to look, you wouldn't be able to see the parting line," says Bewley.
Simple, elegant graphics
Simultaneous with the bottle design, Eufora also redesigned its package graphics to fit the new structure. Each Performance Product collection is differentiated by color: magenta for Curl'n, cyan for Smooth'n, blue for Nourish, and orange for Volume. White bottles are used for cleansing products, grey or silver for conditioning, and magenta, cyan, or blue for special treatment or preparation products in three of the collections.
Decoration includes screen-printed copy running vertically up the bottom third of the bottle, with the collection name and product description, and the leaf logo, in the collection's designated color. An oblong p-s foil label is positioned across top right-hand corner of the bottle. Label copy—the Eufora name in white—is printed over a stylized design of the leaf logo, in magenta, cyan, blue, or orange. The back panel includes screen-printed copy, including product usage instructions and an ingredients list.
The bottles have a soft-touch feel, providing an added touch of elegance and making them easier to handle with wet hands. Each line includes products in tubes from Berry Plastics as well, which were not part of the TricorBraun redesign.
'Design-forward shelf presence'
The new Performance Product lines were introduced beginning in late 2013 with Curl'n, followed by Smooth'n in April 2014, and Nourish and Volume in August 2014.
Says Bewley, "Packaging is an important part of our connection with the stylist and our consumer, and making a change in that packaging creates a challenge. If we made too dramatic a change, we risked losing 10 years of brand equity; if we didn't make a dramatic enough change, we risked not communicating the improvements and product additions we have made to the lines.
"We gave TricorBraun designers very little specific direction as to the package design, but stressed that we wanted to evolve to a new look. With their help, we were able to retain enough visual cues to our earlier packaging to protect equity but still project newness, freshness, and excitement.
"Response to the new products has been overwhelmingly positive. The Eufora network of salons has been hungry for an infusion of new technology and design-forward shelf presence. It seems we have exceeded expectations."
To see a spin + zoom 360° photo, click here.
Companies in this article