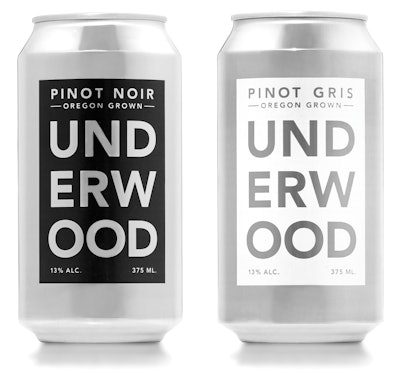 Guided by what it calls a "Pinkies Down" philosophy, Union Wine offers three wine series—Kings Ridge, Underwood, and Alchemist—meant for everyday, accessible consumption.
Says Union Wine's website, "At Union we don't get too caught up in wine scores, the best French oak barrels, or whether our sweater vest clashes with our ascot. We simply make good wines for our friends, and we embrace the challenges and excitement of the coordinates of where we reside."
In the spirit of this Pinkies Down mission, in 2013 Union Wine previewed its Underwood wine in a can at the annual Feast Portland Food & Wine festival. After receiving an overwhelmingly positive response, the company began making plans to bring canned wine to the market.
"The craft beer movement took a lot from wine packaging as it came of age and continued to take it to whole new places, and we think we can shift some of our focus back to something that has more fun, rooted in craft but less stuffy," says Harms. "Union is at the forefront of this 'beerification' of wine trend, a movement that aims to break down the pretense and formality often associated with wine drinking."
In June 2014, Union Wine launched two varietals—Underwood Pinot Noir and Underwood Pinot Gris—in a 375-mL recyclable aluminum can, supplied by Ball. The can is lined inside with an epoxy resin that acts as a lining between the wine and the aluminum, preventing any effects on taste from interaction between the wine and can. Harms notes that any trace amounts of BPA in the lining "are far below what the U.S. FDA has deemed safe." Mobile bottling company Craft Canning performs the can filling operations.
In terms of advantages offered by packaging wine in cans, Harms cites several. Among them, he says, canned wine costs approximately 40% less to package compared to the equivalent nine-liter case of wine in glass bottles. Canned wine also opens up the wine-drinking experience to new occasions and venues where bottled wine may be inconvenient, such as outdoor events or when portability is needed.
Graphics for the packaging—consisting solely of the brand and varietal name in uppercase letters—replicate those used on the label for the bottled Underwood varietals. Designed by Story Manufacturing Co., they are meant to create a casual and comfortable relationship with the consumer.
Harms explains the design approach: "We wanted to convey a sense of the mixture of old playbill posters with a more modernist design sense, reducing the typographic elements so it didn't get too fussy. We wanted something that would intrigue and capture your eye, and look good in a hip coffee shop or an ultra modernist kitchen, but not be tied too tightly to either trend. This represents the reductive approach that the brand takes. Union reduces arcane processes to deliver something new. The design needed to have the energy of a new manifesto but one that comes from today."
Underwood Pinot Noir and Pinot Gris are available for purchase on the company's website (http://unionwinecompany.com), and are currently sold in eight U.S. markets. The wines are priced at $6/can and at $24 for a four-pack.
Companies in this article