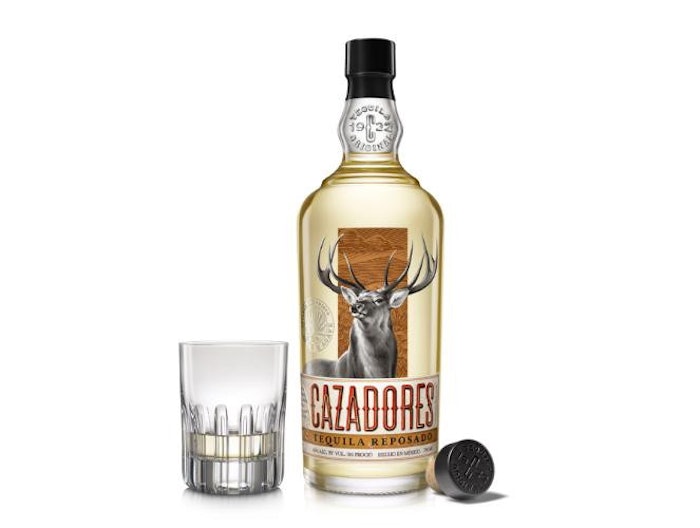 Cazadores®, a 100% blue agave tequila sold in Mexico and the U.S., has launched new packaging for its line of premium tequilas, coinciding with Mexico's Fiestas Patrias, which celebrates the country's independence from Spain in 1810.Created in 1922 by Don Jose Maria Banuelos in Arandas in the Los Altos region of Jalisco state in Mexico, Cazadores is steeped in tradition, using the same recipe and process developed more than 90 years ago.The evolution of the packaging reflects the Cazadores commitment to its heritage and authenticity with a new premium design that takes the legendary brand into the future.
"Our new packaging is another momentous step in Cazadores illustrious history that spans almost a century," says Rene Valdez, Senior Brand Manager for Tequila Cazadores. "The juxtaposition of Cazadores' perennial roots with an updated look and feel is sure to excite our existing consumers, as well as attract new ones."
The most distinctive feature of Tequila Cazadores' new look is a redesigned bottle with a stylish shape that showcases the spirit's premium essence. An embossed neck references 1922, reminding consumers of a long-standing heritage, rich tradition, and time-tested recipe. Embossed on the back of the new bottle is copy that emphasizes the tequila's provenance from Los Altos de Jalisco and the 100% agave promise. A new cork closure adds a rustic yet premium appeal.
Carefully developed graphics communicate Cazadores' high quality and simplicity, says the company. The new label highlights the tequila's iconic stamp—"the powerful and majestic stag Don Jose Maria admired from the window of his adobe farmhouse in Los Altos"—superimposed above a new logotype debossed on thick, distressed paper. Bold colors help consumers better differentiate the four expressions: blanco, reposado, anejo, and extra anejo. Finally, Spanish language labeling celebrates the tequila's genuine Mexican origin.
Cazadores can be found at fine spirits retailers for the following suggested prices: Blanco ($24.99), Reposado ($26.99), Anejo ($31.88), and Extra Anejo ($59.99).