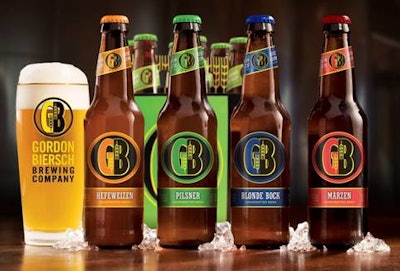 Celebrating its 25th anniversary, Gordon Biersch Brewing Company of San Jose, CA, has unveiled a new look for its collection of heritage, German-style craft beers with updated bottles and carriers and has introduced its second 25th anniversary beer, Golden Export Lager.
Gordon Biersch's four year-round beers—Märzen, Hefeweizen, Pilsner, and Blonde Bock—and its four seasonals—Maibock, SommerBrau, FestBier, and Winterbock— are brewed at the company's state-of-the-art San Jose brewery and bottling facility in the traditional German style reflective of co-founder Dan Gordon's studies at the Technical University of Munich at Weihenstephan.
With the new packaging, each bottle is now emblazoned with colorful new neck, front, and back labels, and complementary cap, with a different hue corresponding to each brew. The "G" in the circular "GB" Gordon Biersch logo with the familiar barley stock icon is also toned to match the new color scheme. According to the company, the crown caps are the first of their kind featuring a debossed, textured logo.
"The goal was to create packaging that spoke to our commitment and dedication to producing heritage, German-style beers with all-natural ingredients and applying age-old techniques with the benefit of the most state-of-the-art brewing technology," says co-founder Dean Beirsch. "We always brew according to the German purity law of 1516, called the Reinheitsgebot, which stipulates the use of only malt and hops and natural carbonation."
The new bottles are available at off-premise accounts wherever Gordon Biersch products are sold.