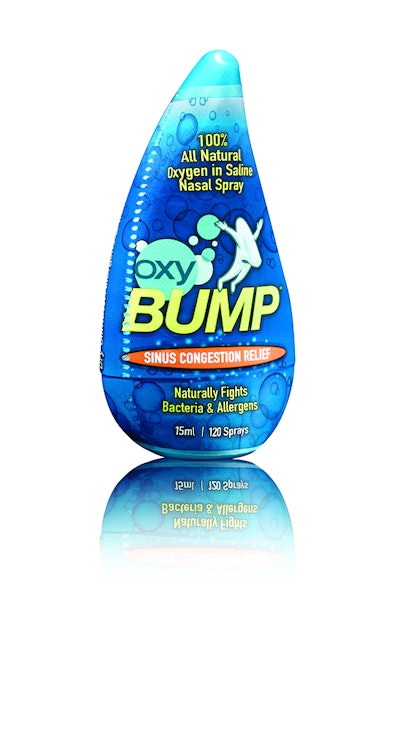 The spray was originally targeted to airline passengers to counter the effects of the recirculated air in planes, and was sold only through airline duty-free shopping. In 2013, seeing a growing consumer interest in the spray, Oxy Bump decided to make it available to the wider market through retail stores. Thanks in part to the product's unique, award winning packaging it has been a retail success.
"In duty free, our product stands alone," says Shamila Hunter, CEO of Oxy Bump Corporation. "Our biggest challenge in entering retail was how to make a nasal sprayer look distinctive from competitive products."
Oxy Bump turned to TricorBraun for its new package design. TricorBraun and designers at its vendor partner Miami-based Altira worked closely with Oxy Bump to design, prototype, and manufacture the primary package in time to meet the company's tight schedule to get the package to market. The resulting sleek, unique package won the Gold Award in the Drug & Pharmaceutical category at the 2014 National Association of Containers Distributors (NACD) Awards.
The package is a half-ounce high-density polyethylene (HDPE) custom bottle and overcap shaped like a stylized drop of water. Both overcap and bottle are embossed, the cap with the company's distinctive "happy nose" character and the word "oxy," and the bottle with the word "bump." After filling, the bottle is sealed by a shrink label carrying bright, colorful graphics that are repeated on the secondary carton. Removing the sleeve and cap reveals the pump sprayer that dispenses the product.
The package made its debut in Meijer stores. Following the NACD Gold Award announcement, Oxy Bump began receiving inquiries from a number of other retail chains, including Walgreen's.
Companies in this article