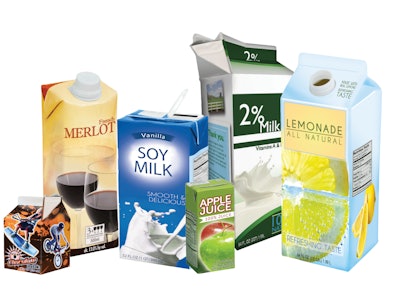 Today's eco-minded consumer is rapidly defining the world in which many of us operate. Yesterday, it was a novel or unique concept for the majority of Americans to find sustainable options among the brands they buy and the products they use. Today, it is commonplace.
Yesterday, consumers demanded little in the way of environmental transparency. Now, they not only want access to information on the environmental impact of the brands and products they bring into their homes, but they also demand a way to easily recycle packaging when they are through with the product.
Today, manufacturers and brands are under more pressure than ever to meet these growing demands.
The carton: growing in popularity
Cartons are lightweight and compact in design. They are made primarily from a renewable resource, and they have a low carbon footprint. It is for all of these reasons, and more, that they are an increasingly popular packaging option for many food and beverage products. Cartons come in two types: gable-top, which are used for refrigerated products, and aseptic/shelf-stable, which are used for products like broth, soups, soy milk, juice, etc.
While cartons are quickly becoming a must-use and subsequently, a must-recycle item, ensuring that there is an infrastructure in place to allow for proper recycling is a vital piece to the puzzle. This is where the carton industry is leading by example, and making tremendous progress.
As Vice President of Recycling Projects for the Carton Council of North America, a group of carton manufacturers united to deliver long-term collaborative solutions in order to divert valuable cartons from the landfill, I have seen firsthand the growth of carton recycling access in the past five years, since we began our work. Today, an impressive 50% of U.S. households now have access to carton recycling in their communities. This represents a 177% increase since 2009 when the Carton Council began our efforts.

Great strides made since 2009
Historically, the U.S. has been slow to adopt carton recycling. In 2009, when the Carton Council was formed, only 18% of U.S. households were able to recycle cartons in their communities. Now we stand at 50%. And, while there are over 140 paper mills worldwide that recycle cartons, only nine of these are located in North America. Back in 2009, only one mill accepted cartons. In the past five years, our efforts have been successful at bringing eight more on board.
We would like to see a day where along both coasts and everywhere in between, carton recycling is the norm—both at the curb and in recycling facilities and paper mills.
Access matters
Cartons are relatively new to many recycling streams, as evidenced by the low access in 2009. Comparatively, other commodities like aluminum cans and newspapers have been widely recycled and accepted by the majority of communities for decades. As access grows every day, so do the number of Americans who can recycle our packages. This means more cartons are going into recycling containers, more cartons are being processed by local recycling facilities, and more collected materials are being used by paper mills to create a variety of new products from tissue, toweling, and paper products to green building materials like wallboard, sheathing, ceiling tiles, and backerboard.
While the U.S. did not adopt carton recycling as fast as the rest of the world, we are now moving full steam ahead. Reaching 50% access in just five years is something we are very proud of, but we recognize there is still more to do.
Increasing access to carton recycling is also important because cartons have high-quality fiber, which is especially valuable in an era where office paper is declining. A testament to their value, cartons received their own material grade: Paper Stock Industries grade #52. In addition to the fiber, cartons have thin layers of polyethylene. Shelf-stable cartons also have a thin layer of aluminum to enable the product to be stored safely without refrigeration. These materials can also be recovered and recycled.
Increasing access to carton recycling is important to municipal recycling coordinators as well. Recycling cartons helps communities achieve their zero-waste and other diversion goals. Accepting more recyclable materials also makes local recycling programs more convenient for residents.
A collaborative effort
A material does not go from 18% to 50% recycling access in five years without commitment, innovation, and productive industry collaboration. This 177% growth—an unprecedented number—was achieved due to meticulous planning and foresight on the part of Carton Council members (Elopak, SIG Combibloc, Evergreen Packaging, and Tetra Pak, as well as associate member Weyerhaeuser), a steadfast focus on the big, strategic picture, and the ongoing and overwhelming support of countless recycling, packaging, municipal, and sustainability stakeholders..
The Carton Council also promotes joint public and industry collaboration on programs, policy, governance, and funding with the belief that it will result in maximum efficiency in the recovery of cartons—and other household recyclables as well. Referred to as Voluntary Producer Responsibility Plus (VPR+), the Carton Council encourages a voluntary approach to producer responsibility where both the public sector's and industry's efforts need to be extended through voluntary collaboration to jointly fund and operate recovery systems.
Thanks to this united industry effort, today more than 58.3 million households in 46 states can recycle their cartons in their communities. This includes 77 of the top 100 U.S. cities, including New York, Dallas, Philadelphia, Houston, Cincinnati, San Diego, Louisville, Albuquerque, and Los Angeles.
As this access number continues to grow, we also are working hard on increasing recovery—the actual recycling of cartons. After all, what impact does access truly have if consumers are not taking advantage of this access and recycling their cartons? Many cities have seen how important it is to educate their residents on this very point, and the Carton Council is committed to providing resources to help them do this.
Jason Pelz is Vice President, Environment, for Tetra Pak North America and Vice President of Recycling Projects for Carton Council of North America.