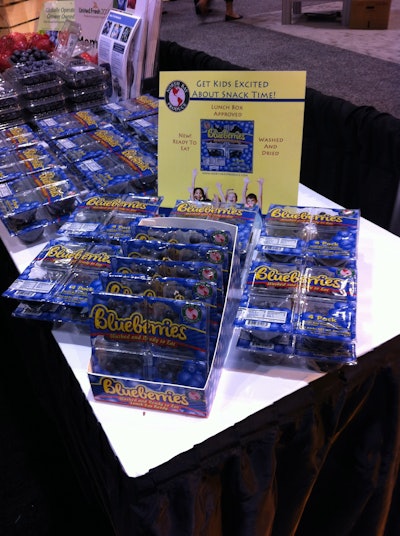 At the United Fresh 2014 event, co-located with the FMI Connect 2014 show, in Chicago June 10-13, clamshell packaging was present in abundance, holding a range of fresh fruits and vegetables for retail display. But five new packs in particular stood out, due to their custom structures, designed to encourage product consumption and new meal solutions.
As snacking in the U.S. continues to soar, several United Fresh exhibitors presented their options for fresh produce snacking. North Bay Produce, Inc., Traverse City, MI, introduced a four-pack of washed and ready-to-eat blueberries in a perforated, clear, four-section PET thermoform covered with brightly printed film lidding. According to Sharon Robb, National Marketing Manager for North Bay, the single-serving solution provides moms with more control over portion sizes for kids, while being convenient for lunch boxes, backpacks, or purses.
Each serving in the four-pack provides 1.5 oz of fresh blueberries—just tear off and enjoy. Film lidding graphics were designed to provide an appealing shelf presence, yet offer a clear view of the blueberries inside. The products—packed in North Bay's Mascoutah, IL facility—are scheduled to launch July 1. For retail, North Bay offers a five-unit display box; a six-unit box is available for foodservice sales.
From Mastronardi Produce, the new Eco Flavor System comprises a clear, custom bowl with vented film lidding that, once opened, encourages countertop display and family snacking. Used for its Sunset brand of tomatoes, including SUNSET® Zima, Splendido™, Angel Sweet™, and Wild Wonders™ varieties, the package comes in sizes ranging from 10 oz to 2 lb.
The new proprietary package was given its name due to the fact that it uses less plastic than ordinary clamshells, noted a Sunset representative at the show. The bowl is made from recycled PET and is designed with an arched structure that provides strength without ribbing, reducing material use. The top-seal film reduces packaging material by 20% and offers a full billboard for attractive and appetizing graphics. The lidding is also designed with patented vents to keep the produce fresh until consumption, while the bowl includes drain holes in the bottom
According to the Sunset rep, the new package encourages consumers to remove the film lid and keep the bowl handy for snacking, rather than closing up the clamshell and refrigerating the contents (a no-no for best tomato quality). "A closed clamshell is restrictive," he said. However, for those consumers more comfortable with a sealed package, a peel-and-reseal version is also offered.
Also demonstrating a clever snacking solution, San Antonio-based NatureSweet exhibited its Cherriots™ bite-sized snacking tomatoes in a package comprising three diamond-shaped pull-apart thermoforms holding 5 oz of product each. The ribbed thermoforms come in red and yellow varieties, depending on the tomato type, and are covered with a clear film lidding decorated with the brand's trademark yellow and red graphics.
Handy for snacking, entertaining, or a meal addition, a new offering from Westmoreland Sales under its TopLine Farms brand pairs snack-size tomatoes and mini peppers with sample sizes of vinaigrette dressings. Packaging is eye-catching for its uniqueness: The body of the 20-oz clamshell consists of two compartments for the produce varieties, while the lid is molded with two olive-shaped recesses that hold the blister-packed dressings flush to the inside of the container.
According to Matt Wright, Senior Vice President of Grower Relations & Supply Development, demand for the product has been "astounding"—in fact, it has outpaced Westmoreland's ability to supply it. Wright says that consumer data collected by the company shows that as the population is aging, they are more interested in healthy eating, a trend he says is continuing to rise, rather than leveling out.
The product, called TopLine Creations, includes four varieties of tomatoes, including 50% red, with the balance made up of yellow, orange, and brown. Vinaigrette, in two 14-mL blisters, includes Raspberry, Balsamic, and Spicy Pepper varieties.
Westmoreland's products are sold in both Canada and the U.S., in a range of major supermarket franchises. The 20-oz TopLine Creations product has a suggested retail price between $5.99 and $6.99.
And last but not least, a colorful clamshell with carry handle offers an easy-to-prepare side-dish solution. Launched in limited distribution a year ago from Black Gold Farms, the Roasties line includes fresh red potatoes and a seasoning packet from McCormick. Preparation instructions are simple: Rinse, cube, season, and bake.
Said Leah Brakke, Marketing Specialist for Black Gold Farms, "We knew the red potato market needed more 'spice,'" and thus the partnership with McCormick. The rectangular, ribbed PET clamshell is clear on the bottom and holds 1.5-lb of fresh (with an emphasis on the fresh, says National Director of Produce Sales Glen Reynolds) red potatoes and a spice packet. Three seasoning varieties are available: Roasted Italian Herbs, Toasted Onion and Garlic, and Roasted Garlic and Rosemary.
The detachable lid is red in color to ensure the potatoes' freshness under the glare of fluorescent retail store lighting. A black plastic carry handle printed with the Black Gold logo and the copy, "Seasoning Packet Inside," completes the specialty look.
The suggested retail price for Roasties is $4.79 to $4.99. A fingerling version is also in the works that will feature a purple clamshell lid.