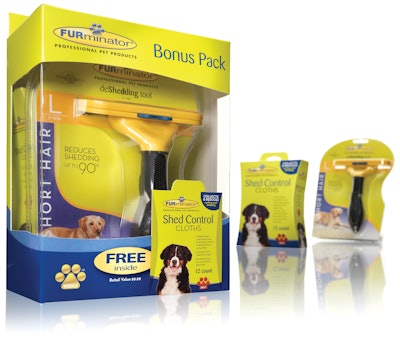 United Pet Group's FURminator deShedding tool has legions of fans among pet owners who would rather proactively remove hair from their dogs and cats rather than having to vacuum it up once its fallen where it will of its own accord. But this spring the Cincinnati-based firm launched a new product called Shed Control Cloths that are designed for daily use as opposed to the recommended weekly use of the deShedding tool. To boost interest in the launch, UPG needed a special promo bonus pack to be displayed exclusively at PetSmart stores, and their search led them pretty quickly to Tranparent Container.
"We do a number of promotions that gain customer and consumer interest as a way of driving sales," says John Herzig, Associate Packaging Engineer at UPG. "In this case we looked for a way for the consumer to see everything that's in the box while still keeping a premium look. It called for either a die-cut window or a see-through carton, but one thing we knew pretty early on is that without visibility through some kind of window, we probably wouldn't do the promotion. An all-plastic carton was considered too costly, and it's not the best solution from a sustainability standpoint, either."
The folding carton supplied by Transparent Container is a fold lock bottom and tuck top with a generously sized clear PVC window. What makes the window unusual is that it not only extends across most of the front panel, it also extends about an inch around the right front corner and a full three inches around the left front corner. This innovative combination of paperboard and plastic delivers
• all the visibility that UPG was looking for
• a cost structure that makes the Bonus Pack promo possible
• attractive graphics, including important messaging about the newly launched cloths
"In addition to the messaging on the Bonus Pack carton there is some wording on the Shed Control Cloths carton that we want the consumer to be able to read," says Herzig. "The Transparent Container design makes this possible."
Tools arrive blister-packed
The deShedding tools are manufactured and blister-packed by an offshore source and then shipped to UPG. They sell for as much as $68.00, while a carton of Shed Control Cloths costs about $9.99. Consumers were able to get the cloths for free in the Bonus Pack as long as the PetSmart promo lasted.
The Bonus Pack carton comes in one size that is about 9 in tall, 5 in wide, and 4 in deep. A second format is the same in depth and width but stands only 6 in tall. The cartons are shipped to UPG as flat blanks. Operators open them manually, load one blister-packed deShedding tool and one 12-count folding carton of Shed Control Cloths, and then tuck the top flap closed.
As for the Transparent Container converting process behind the folding carton, step one is die cutting and scoring sheets of 10-mil PVC from a roll. These sheets are fed into a patcher/gluer machine that marries a PVC sheet to each folding carton blank. Transparent Container prints the 18-pt SBS paperboard in four colors plus two spot colors on an offset press followed by an aqueous coating.
Pleased with the outcome of the Bonus Pack project, Herzig says he can't think of any source for such a carton other than Transparent Container. "You really have to get that score right," he points out. "And they were the only ones capable of giving us this large a window and get it across three panels without having to bring in some kind of third party."

To see a spin + zoom 360° photo, click here.
Watch an off-the-shelf video of this package here.

Companies in this article