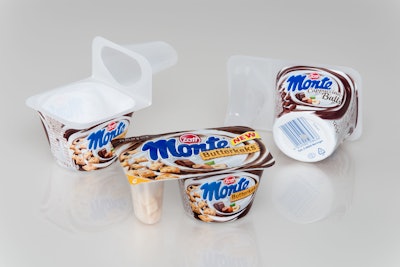 The flavor stays fresh thanks to the innovative two-cup chamber system with folding seam that keeps the unique Monte cream--a combination of creamy milk, chocolate, and hazelnuts—separate from the fruit and other crispy ingredients until they are mixed just before eating. The plastic container is manufactured using a thin-walled injection molding technique with in-mold labeling by the Weidenhammer Packaging Group .
All-around labeling is achieved using the special Weidenhammer IML full-cover technique, which enables the sides and bottom of the plastic container to be seamlessly processed without gaps. "We are currently the only company on the market that offers this process," says Sales Director Andreas Rothschink. "The technique allows full surface labeling that covers even the rounded edges." This not only gives the container a unique look & feel. Rounded edges also offer another key benefit: consumers can spoon out the last bit of Monte dessert from the container.
The precision-made plastic containers clearly emphasize the high quality of the brand.
The two dessert components are mixed when the consumer bends the packaging at the fold line and mixes the ingredients just before eating. This enables the dessert to be partially or completely mixed, or eaten separately. The container's two chambers are optimally spaced and, thanks to the integrated fold line, the contents can be mixed by consumers with a flick of the wrist.
The polypropylene package is practically unbreakable. It's also flexible, bends easily, and is ideal for refrigerated display cases. Sealed with an aluminum foil lidding material, the plastic container offers optimum product protection. This ensures that the product is always fresh at the time of purchase.
Companies in this article