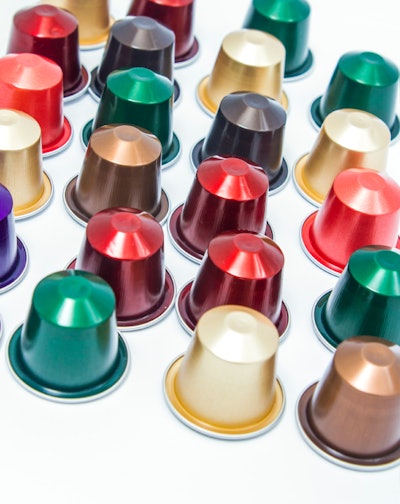 An article from Packaging World posted on the IoPP LinkedIn group regarding Nespresso Austria's use of a recyclable, compostable bag for collection of its recyclable coffee capsules stirred up some strong responses, when readers were asked, "How willing would U.S. consumers be to bringing coffee capsules to a collection center for recycling?" One often-cited excuse for low recycling rates in the U.S. is consumer apathy and lack of education and guidance, hence the question from PW Senior Editor Anne Marie Mohan.
While some respondents felt consumers would participate in such a plan, others thought it "not very likely," if current recycling statistics were any indicator.
Beginning the conversation, R&D Chemist/Microbiologist Thomas Clark, said, "IMHO [in my honest opinion] not very likely, would need to be picked up. Do a high percentage of people bring plastic bags back to the grocery? Perhaps a nickel deposit would be a motivator."
To this, Principal Consulting Engineer Andy Malcolm, responded, "As a Nespresso user in California, I have been notified that I will have the opportunity to receive a collection bag that holds up to 200 used capsules, which can be dropped off at certain locations (mostly Nespresso retailers) or at UPS. I will have no problem participating in that program."
Meanwhile, Dan Kelly, Manager, Packaging Design Center at Sealed Air Corp., shared that he believes it comes down to two things: motivation and ease of recycling. "Consumers in America are relatively accustomed to simply disposing of single-use coffee capsules right now. In order to change that mindset, you either need to create a motivation via a deposit or something similar, or you need to make it extremely easy to recycle them via standard curbside collections or another method. Return centers at retailers or UPS locations are good, but the easier you make it for people, the more likely they are to participate."
But Clarke believes that those most likely to be the ones to return a pod to a collection center are consumers who don't use pods in the first place: "People who use pods already have more regard for convenience than environment, and because your proposal requires inconvenience, they would probably not participate. I would suggest a tax on pod makers to cover the disposal costs, which are typically covered by consumers via taxes."
Certified Recruiting Consultant Mike Hochwalt, of Packaging & Flexographic Recruiting noted his company has tried coffee capsule machines and have found them wanting—in many areas. "In our office, we have dumped Krups and Nespresso after machine malfunctions due to overuse I think, and have gone instant…which for us is a more efficient way to deliver coffee, and the 8-once bottles yield about 70 to 80 cups for a little under $6 a bottle," he says. "They are easier to recycle in the recycle bin and not as messy.
My guess is there would have to be financial incentive for the consumer or business to collect empty anything with plastic and lidding materials. For example, I think HP does a pretty good job with recycling printer empties at Staples and Office Depot, where they give $2 to $4 per empty toward new merchandise. When we used Krups and Nespresso, we just tossed the empties into the trash. …"
Andy Malcolm, a principal consulting engineer, did not appreciate Clarks's generalization regarding pod users," saying, "Thomas, first, I do value the convenience provided by capsules. Absolutely. And, I specifically requested that Nespresso send me two recycling bags so I can drop off the capsules at the local UPS store. So, the generalization is not appreciated.
"Second, taxation is not the solution to every problem. Nestle is making an effort to increase recycling rates. Other packaging suppliers do the same. If they are going to be rewarded for their efforts by an additional tax, that sends the message to other companies to not put forth that effort. They're better off sitting back and waiting for the taxman to strike.


Clarke, "respectfully disagreed," saying, "I'm sorry you don't 'appreciate' my generalization, but that's just what it was. There are always exceptions to the trends. I would be very surprised if my theory on mindset were inaccurate. As far as taxes go, I think it's time to shift the responsibility of waste treatment toward the suppliers who pay no consequence for producing irresponsible packaging, which society has to pick up the tab for disposing. I like to see packaging producers voluntarily invest in waste management (some are), environmental education, and promoting recycling programs at the national and local level. I commend the efforts to promote the recycling of pods; I am simply questioning the 'plan' as described here."
Warren Schirado, of MTC – Processes and Packaging Container Development, said he believes coffee pod recycling is "doomed": "If the American public can see to recycling only about 30% of the PET bottles and a better approximate 60% for aluminum, unfortunately, I'm afraid the recycling of these tiny coffee/beverage dispenser cups is doomed to be far less. Maybe, a better tactic would be to sell/install cup grinders to reduce the volume of the mini cups and make it easier to reclaim the materials. Prepaid boxes or reuse of original box to send the grinds back to the point of origin would add to the incentive. Do you know what percent or actual number of users of coffee/beverage drinkers use these concentrate cups?"