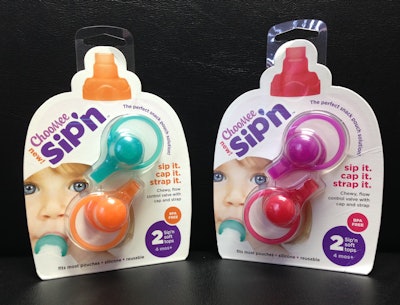 Introduced late last year, this innovative product is a soft, chewy silicone that fits over the hard plastic spout found on many pouched products aimed at children who are transitioning from liquids to solid foods. It greatly improves mouth feel and also provides a convenient reclosure feature.
Choomee has the Sip'n products injection molded in China and calls on Assemblies Unlimited for contract packaging services. "They cater to companies our size, they have a great location, and they've done a really nice job with this product," says Choomee's CEO Ray Hammi when asked why he selected Assemblies Unlimited. That firm uses a Sonoco Alloyd heat sealing machine to trap a blister thermoformed of RPET between two pieces of 20-pt SBS. The die-cut facing card goes into the cavities of the Alloyd machine first. When the blister is placed into this facing card, it already has two Sip'n Soft Top products in it. Operators then put the back card into the cavity, and after the cavity runs through a heat and compression station, out comes the two products trapped in their RPET blister between facing and backing paperboard cards. Rohrer supplies both the thermoformed blisters and the paperboard cards. The facing card is printed offset in five colors.
Sip'n Soft Top is just now rolling out and sells for about $6.99 for the pair.
To see a spin + zoom 360° photo, click here.
Companies in this article