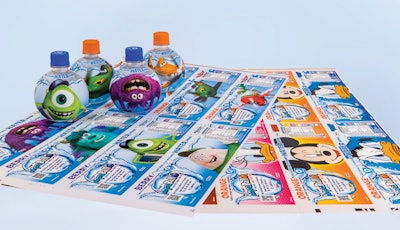 A naturally flavored, zero-calorie water drink containing no colors, flavors, or harmful sweeteners, AquaBall comes in a 12-oz PET bottle whose globe shape and colorful cartoon graphics are guaranteed to be a hit with kids. The Disney-licensed graphics on the full-body shrink sleeve label come to life the way they do thanks to a very special printing technology and a PETG shrink film uniquely suited for this application.
Custom designed for and patented by True Drinks, Inc. of Irvine, CA, this bottle is injection stretch blow molded on a reheat-and-blow system. Filling and application of the 28-mm injection-molded polypropylene cap is done by regional contract packagers. Once filling is complete, the shrink-sleeve labels are applied. The bottles then go through a shrink tunnel.
Finished containers are tray-packed six per tray and the trays are sent through shrink film overwrap.
"AquaBall is the only beverage that meets the Nutrition Guidelines defined by Disney's Magic of Healthy Living program," says Robert Van Boerum, Director of Marketing for True Drinks, Inc. "The globe shape of the bottle indicates to kids that it's a drink especially for them. The bigger and round shape makes it easy for kids to grab and hold. And unlike juice boxes, the lid is re-sealable."
Packed with kid appeal though it may be, the globe shape presents a challenge where labeling is concerned, says Van Boerum. "We needed a label converter talented enough to print a shrink-sleeve label that could be applied with proper distortion to the artwork," says Van Boerum. The bottle maker recommended Hammer Packaging. Says Van Boerum: "Hammer is incredible."
One of the things that makes them "incredible" is the fact that they were the first label printing firm in North America to own a Variable Sleeve Offset Printing (VSOP) press, which they purchased in 2007. The VSOP technology, says Hammer's Chief Research & Innovation Director, Hart Swisher, is available from Muller Martini Corp.
"VSOP is a web offset press," says Swisher. "Its state-of-the-art sleeve technology allows print sizes and images to be changed quickly and easily from run to run—without having to change all the printing inserts."
Flexibility
What this means to True Drinks is that VSOP technology offers the flexibility to print shrink sleeves for two different AquaBall flavors at one time across the web, with eight labels around. That is, rotating four different colored graphics in two sets across multiple lanes. For instance, on the fruit-punch lane might be labels featuring Disney Princesses Cinderella, Ariel, Belle, and Rapunzel, times two (equals eight around). On the grape lane might be Marvel's The Hulk, Iron Man, Captain America, and Avengers Assemble, times two.
This gets back to Robert Van Boerum's point, "We truly consider AquaBall to be a premium product as representative of the Disney and Marvel brands. And for that, we wanted quality film and full-color print." The folks at Hammer agreed. "Choosing the material was critical," says Swisher. "The globe shape required a low-vertical shrink around the bottle. We also needed film with sufficient receptivity to take the inks and provide a tight register for the colorful characters."
Due to what Swisher calls a "great partnership," Hammer chose Pentalabel® TG10T22 T52, a PETG shrink-sleeve film from Klöckner Pentaplast. "Their film is the best and most consistent," he says. "They have many types of film, each developed to best meet the different requirements of individual container configurations. Pentalabel® Type 52 is uniquely suited for this application because it has the highest transverse direction (TD) shrink percentage, which means it's able to grow in the machine direction. On top of which it is the clearest film out there. Two-dimensional stretch is a chief characteristic. These features provide the benefits of the largest and cleanest image on the bottle."
This particular Pentalabel® shrink-sleeve film offers a higher shrink percentage, which is significant for the AquaBall application. Its ability to shrink in the machine direction means it shrinks laterally, which is desirable for labels that have to shrink around a cylinder. But more important for AquaBall, Pentalabel® Type 52 film also grows in the vertical direction, up and down. This means the label reaches attractively all the way from the bottle's neck to its base. An inferior film would tend to pull at the edges, resulting in what's known as a smile forming at the top and producing an upward crease from side-to-side. Or conversely, a downward frown forms at the bottom caused by vertical pulling.
Says Van Boerum, "The globe shape takes tremendous shrink to wrap. Distortion is such a concern. But Hammer has prepress samples to us in a couple of days. In that time, they are able to correct any distortion so that the Disney logo is properly maintained. That means we are happy and Disney can be happy, too."
In fact, Hammer had the first run of finished labels to True Drinks in less than two weeks. "Our prepress operation is 100% digital," Swisher. "We also have software that creates digital 3D renderings of artwork on the container so the customer can visualize what their finished product will look like before even going to production. For further upfront support, we have a STEAMBOX PRO in our testing lab that simulates a steam tunnel in production and shrinks labels on products for samples, which really shaves off development time. It keeps it from becoming a long, drawn-out process."
Proprietary seaming
Hammer also has a sample maker for mimicking their proprietary seaming process. "We have devised a way to keep the seam narrower than the industry standard, so there is no edge-lift or bump," says Swisher. Van Boerum concurs saying, "The AquaBall you see on the shelf is a smooth bottle. It's practically seamless. We want to provide parents and kids with the best experience we can, so those details matter."
With the entire prepress process performed in-house—including making the digital offset plates—Hammer can enact graphic changes to the print files on the spot. "True Drinks sends us the artwork, and it goes directly from computer to plate. We can have a new plate in eight minutes," says Swisher, "We have very good control to react to customers' design changes. If they make a design change during a press OK, they can see that change running on press that same day—there is no need to wait days or weeks as they had to in the old days."
Another reason Hammer was able to deliver AquaBall shrink-sleeve labels so quickly is that changing of plate cylinders or rubber blankets is quick and easy, now designed as handy removable sleeves on the Muller Martini. And this naturally affects price...in customers' favor. "Our process for making plates is quick and inexpensive so at such low-cost, we don't charge for them. Not to mention we custom make plates for each print job making it easy on our customers who want to make graphic changes. VSOP technology is much more flexible and cost-effective than flexo or gravure," says Swisher.
Made of thin aluminum with an emulsion overlay—and laser engraved to create the image and non-image—VSOP plates are routinely recycled. "We can change the plate image every run, which means we can change the versioning as well. Limited-time promotions are no big deal," he says, "Monsters University might run with Disney Princess, and the next run with The Avengers. Or even better, an Australian version may be on one lane while the U.S. is on the other, for a total minimum print run. Essentially, two print runs for the price of one."
On top of that says Van Boerum, "Disney loves the brilliance of their characters on the label. And their logo is always in the right place at the seam line. They are very diligent about due process and have to sign off on our labels. Their feedback has been positive." At Hammer, Hart Swisher attributes AquaBall's label brilliance to Klöckner Pentaplast's Pentalabel® shrink-sleeve film. "We've worked with kp a number of years, and their low-vertical shrink films do a nice job that offer advantages for web-offset printing. Their service is outstanding. Klöckner Pentaplast is our primary shrink-sleeve film provider."
Hammer produces the Disney and Marvel characters using seven-color expanded gamut printing, trademarked as HammerPRISM™. Expanded gamut printing eliminates spot colors, another cost reduction. Rather, Hammer is able to reproduce most spot colors with extreme accuracy using a standard set of expanded gamut colors, so the customer has the option to convert their spot colors. This means art design is no longer limited in the use of spot colors to fit within a certain number of stations on a press.
'Beautiful labels'
"They're beautiful labels, too," says True Drinks' Van Boerum. "The quality of Klöckner Pentaplast's film and printability is high-end. On the shelf, AquaBall's label is colorful and glossy, with no fading." He calls the partnership with Hammer Packaging "a really good relationship."
Meanwhile, True Drinks continues to form new initiatives. "We're minimalists," says Van Boerum. "We're a company of about eight core, full-time employees, nimble enough to stay responsive to the marketplace." With that in mind, the new generation of AquaBall labels features a clear band at the top so that health-conscious parents can see that the liquid inside is indeed clear and pure water that is full of vitamins, including B3, B5, B6, B12, and C. The sweetener is zero-calorie, all-natural Stevia, derived from the leaf of a South American herb.
Since the introduction of AquaBall at the beginning of 2013, "We are very aware of the impact featuring licensed characters on our bottle can have on our brand," says Van Boerum. As good timing would have it, True Drinks had approached Disney about licensing its characters just as the animation company was restructuring its portfolio of brands to be in line with Disney Magic of Healthy Living--an initiative to inspire more healthful lifestyles among kids. This involved new standards for Disney-branded food advertising. "AquaBall Naturally Flavored Water meets their healthy standards of living, currently the only beverage that does," says Van Boerum. With the beginning of 2014, AquaBall also displays the new Mickey Check, a tool of Disney Magic of Healthy Living that makes it easier for families to identify nutritious food choices. "We cultivate parents' trust," says Van Boerum. "To do that, we are encouraging kids to drink water full of healthful vitamins. And the label helps make that fun."
Hammer Packaging is happy to oblige by making those labels at a lower upfront cost than is possible with either flexo or gravure printing. Hammer has so much belief in the future of VSOP technology that a 13,000-square-foot expansion was completed in the fall of 2012 to make room for their third web offset press from Muller Martini. With over $100 million in sales and 450 employees, Hammer is the one of the largest users of VSOP technology for labels in the world. For a company that celebrated its 100-year anniversary in 2012—helmed by fourth- and fifth-generation Hammers—its ability to strategically reinvest in new products and new markets is inspired.
"We've had a tremendous response to AquaBall," says Van Boerum. "The flexibility inherent in VSOP technology is the ultimate in logistics planning."
"Supporting our customers so they can better serve their customers is one of our key missions," adds Klöckner Pentaplast's Bob Schantz, Label Film Business Manager. "Whether it's producing specifically engineered films or providing technical service for the film in the printing and application processes, we support the value."
It would appear that the fit between Klöckner Pentaplast, Hammer Packaging, and True Drinks, Inc., does seem to be one that will keep the ball rolling into new and innovative territory.
To see a spin + zoom 360° photo, click here.
Companies in this article
Videos from Klöckner Pentaplast Pharma, Health & Protection and Durables