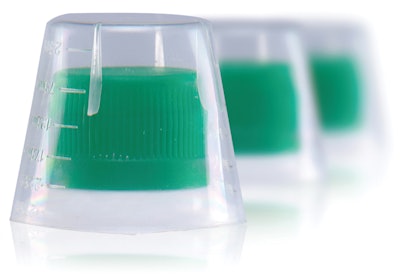 The bottle is from Manjushree Technopak Ltd. and its sister company Mphinite Technologies. Following a trend of agri businesses switching to PET for their seed products, GAVL turned to the new format after experiencing challenges with the high-density polyethylene bag and bottle packaging it was using.
"These packages posed a lot of disadvantages to the brand, including difficulty in transportation and storage, the need for manual labeling, a lack of refreshing design, and imitations and counterfeits in the market," explains Arit Mukherjee, General Manager of Marketing for GAVL.
Vipul plant regulator, formulated to improve the overall health and development of plants, is sold through Pan-India distributors and retailers. In overhauling the packaging for the product, GAVL was looking for a design that would lend itself to mechanized labeling and filling, reduce product leakage during transportation and storage, be trendy and convenient, and improve shelf appeal.
With those goals in mind, Mphinite worked toward creating a unique PET package design—very different from the shampoo bottle-style used previously—that was not only appealing, but also functional. The resulting structure comprises a flared body, with two swells at the top, decorated with a full-body shrink-sleeve label. Fitting over the cap is a clear measuring cup that allows farmers to dispense the appropriate dosage of product for their crops. The bottle is available sizes ranging from 500 mL to 2 L.
"For Godrej, the new packaging improved our market share, attracted existing and potential consumers to the brand, and reduced leakage of the product," says Mukherjee. "Our overall supply chain and logistics efficiency improved as well.
"As for the consumer, the new packaging is a refreshing change. The transparent measuring cap helps the farmers to select the right amount of dosage, and the label provides clear user instructions."
Companies in this article