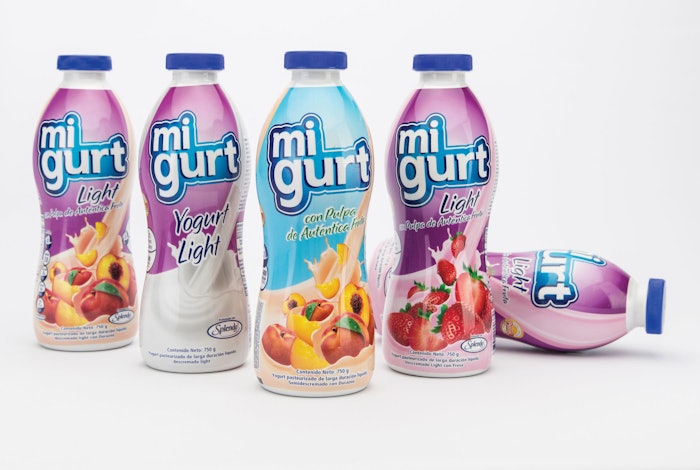 Called MiGurt, the pourable, multi-serve aseptic product is packaged in a 750-g barrier PET bottle from Amcor Rigid Plastics that helps provide an extended shelf life of six months and requires no refrigeration prior to opening. Because of these properties, Empresas Polar is utilizing its extensive nationwide ambient distribution chain to bring MiGurt to consumers in low-income regions not served by refrigerated distribution channels.
"A long shelf-life yogurt product was key to commercialization, because it provided low-cost distribution and a highly affordable consumer brand," says Manuel Capdevielle, a director of Empresas Polar.
According Amcor Senior Engineering Manager Chris LaBombarbe, the main challenge of the project was producing a bottle that could protect against light sensitivity—a common problem with dairy products—while optimizing material distribution. The bottle is a monolayer PET material integrated with a barrier additive from Novapet, S.A. that meets aseptic filling requirements and provides light-blocking capabilities to prevent spoilage and degradation of the yogurt product and maintain its nutritional value.
In designing the preform, LaBombarbe says Amcor performed extrapolations of several parameters to create a preform for the hourglass-shaped package. "We wanted to ensure that we did not have areas where this container could not perform to meet needed specifications for ambient yogurt distribution requirements," he explains.
Design considerations were also made to maintain a smooth interior profile to facilitate the filling process. To address preform processing challenges related to the bottle's highly white pigmented, opaque structure, Amcor adapted special re-heat technology. "The system we specified allowed us to have an efficient level of energy penetration into an opaque preform," says LaBombarbe."This ensured we had optimal investment productivity rates for this type of material."
The MiGurt bottle is also said to provide environmentally friendly advantages as well: Being a monolayer structure, it uses approximately 5% to 10% less material versus a multilayer bottle, LaBombarbe estimates, and it is fully recyclable.
The packaging is topped with a single-lead, 38-mm finish with a foil induction seal, and is wrapped with a vibrant shrink-sleeve label.
According to Capdevielle, MiGurt has enjoyed major success since its introduction last year, with sales exceeding expectations. Based on the product's popularity, Empresas Polar plans to expand the ambient yogurt product, with single-serve 100-g and 250-g products.
Companies in this article