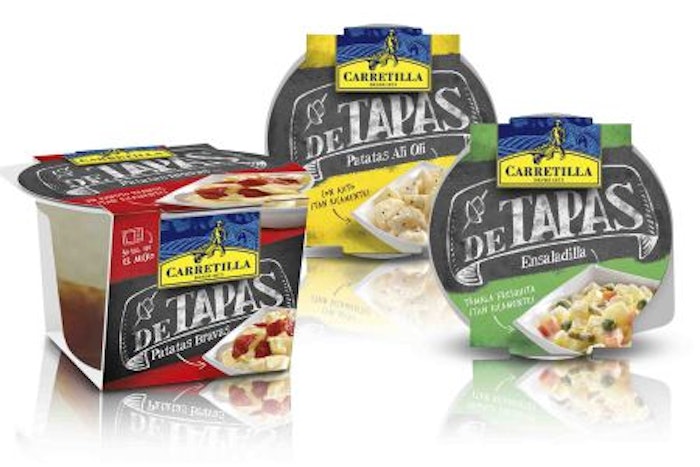 Carretilla is a leading brand in ambient salads and ready-to-eat dishes in microwaveable containers. It's also known for its preserved vegetables and sauces.
The new line brings consumers three different varieties of this Spanish specialty: fried potatoes in spicy sauce, potatoes with allioli, and Spanish potato salad. This high-quality, fresh, natural and additive-free product can be eaten directly from the cup, at ambient temperature or heated in the microwave for only 30 seconds, thus recreating at home those entertaining moments with friends at the pub or at the café, at any time of the day.
EDV Packaging provided a unique container of the ENVAHOT© range that is very light, easy to carry, easy to hold, and microwaveable. EDV Packaging coextrudes and thermoforms the PP/EVOH/PP transparent structure in its production plants in Llinars del Vallès, Barcelona, Spain. The plastic cup contains a 180-g portion of product and ensures ample barrier to oxygen and aromas. It withstands Carretilla's exclusive patented sterilization process and provides a 12-month shelf-life at ambient temperature.
Heat-sealed white lidding material is a barrier plastic film that neither EDV nor Grupo Alimentario identify. Each cup comes in a paperboard carton sleeve--also unidentified.
Companies in this article