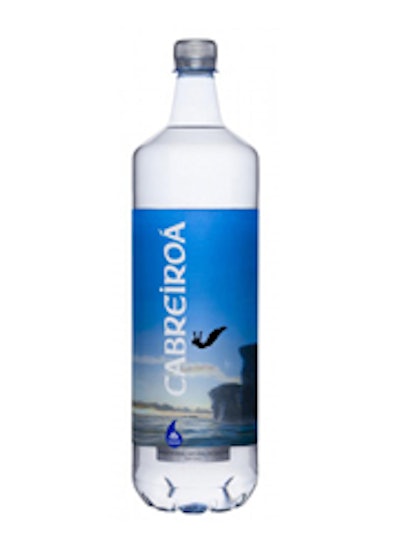 Cabreiroá is a mineral water derived from springs in the Galicia region of Spain. Being one of the leading brands in the North West region for more than 100 years, Cabreiroá, owned by Hijos de Rivera, is setting its sights on a national market. The traditional brand is being revitalised, with a unique, new PET bottle range and collection of six pressure-sensitive labels, printed by Constantia Spear.
"Since 1906 we've worked for our products to become recognised in the natural mineral water world. Cabreiroá's new PET containers, characterized by a clean modern line, are a consequence of this constant effort," explains Juan Paz García, of Hijos de Rivera.
Aimed at a premium market, Cabreiroá represents vitality together with its Galician origin. Each of the six back labels were printed with a different scenery design in mirror fashion. Spear then applied a solid white to conceal it before printing the back label design (proudly promoting their sponsorship of the Spanish national football team). The Cabreiroá logo on the front label had to be a strong, clean white to stand out against the photographic back label image. In line with requirements for a premium look pack, Spear chose a hi-reflectance silver, printed sub-surface, to create a foil effect on which to display the beverage description. The result is an aquatic scene magnified through the bottle, complementing the energetic silhouette on the front label.
"The new labels represent a turning point into the world of PET containers. Thanks to our collaboration with Spear, we have achieved optimal synchrony between the front and back label. In our opinion, this is a fantastic method of conveying a message of vitality and Galician origin in a simple and natural way," says Juan Paz García.
Companies in this article