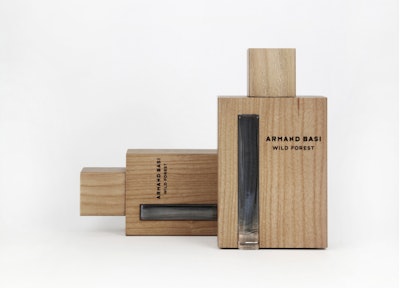 Architecture and nature in harmony: Such is the new men's fragrance, Wild Forest, by Spanish perfumery brand Armand Basi that was created to reflect a balance between the urban cityscape and the natural environment. The packaging, developed by Quadpack partner Technotraf, places a glass bottle within a wooden container crafted from a single, solid block of ash, complemented by a matching ash cap. A rectangular window gives a view of the bottle and the fragrance inside.
The custom fragrance bottle design, created by design studio Estudi Arola, has a rectangular shape, with a vertical column that juts out along the left-hand edge on the front face. For each bottle, a block of wood was hollowed out using CNC milling machines to fit its contours perfectly. This includes a window that frames the vertical column. The outer surface is tinted and finished to highlight the grain pattern, making it not only visible, but also perceptible by touch. The branding is pad-printed in minimalist black lettering. A small, square wooden cap emphasizes the pack's austere lines.
 

Wild Forest is available in 50-mL and 90-mL sizes.
Companies in this article