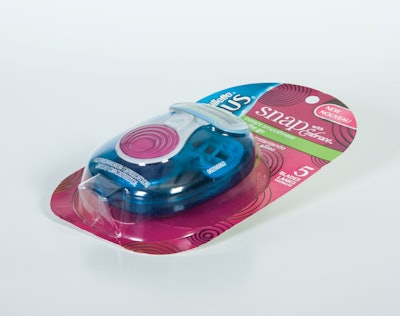 From Procter & Gamble's Boston-based Gillette division comes the well known and well established Venus line of women's razors—Venus Quench, Venus Embrace, Venus Breeze, Venus & Olay, and others. Now comes Venus snap with Embrace™, a compact and portable version of the longer-handled shaving devices aimed specifically at women on the go.
The packaging is a common enough format: a trapped blister that is thermoformed of PET. But it's no ordinary thermoforming that we're talking about here. This package is one of the first commercial applications of a patent-protected technology from Canada's think4D (www.think-4d.com). It combines printing and thermoforming in a way that produces a package having an unusually tactile quality. In fact, it's as if the little shaving device itself is perched on top of the plastic thermoform.
According to Gillette's Mike Marcinkowski, Principal Engineer R&D, Global Pack Dev, this package is an extension of some of the work Gillette has done in the past with Gillette Fusion ProGlide packages, where thermoforming is preceded by distortion printing. "But this goes much farther in terms of process and registration," he points out. "The think4D technology takes us to a four-dimensional quality by making the package so tactile."
Early applications of think4D's technology tended to involve shallower thermoforms. In one case, four package-making steps were involved. First was flexo printing of PET sheet. In a second operation, the sheet was thermoformed to a shallow draw and individual thermoforms were die cut from the sheet. Next, a pressure-sensitive release liner was applied to the thermoform. Finally, the thermoform was pulled manually from its release liner and applied like a label to a conventional folding carton.
When applications like these reached Gillette's radar screen, it caught their attention. But they wanted more.
Deeper draw
"It was Gillette that challenged us to go beyond a tipped-on label kind of approach and get to a deep-drawn package," says Mike Fehr, President of think4D. Fehr explains that think4D is a division of Friesens Corporation, a Canadian book manufacturer. They've been around for more than 100 years, so printing is in their DNA. It was about five years ago that Friesens came across the intellectual property for the print/thermoform technology now being commercialized by Gillette. "It was mostly a concept," says Fehr. "There wasn't even any equipment in place at the time. But we really liked the idea, so we acquired the intellectual property with an eye toward increasing our print presence in spaces other than book manufacturing. An obvious place to focus on was packaging.
"Thermoforming accurately in register with print was not possible. We believe CPG companies are looking for this kind of tactile packaging as a means of differentiating their offerings. What think4D offers is a combination of printing and thermoforming in register with print at commercially acceptable speeds to produce a tactile package that, compared to something like an embossed carton, is far more impressive. And that's with low draw. With deep draw, the end result is even more remarkable."
The PET thermoforms for this new Gillette package are produced by think4D in two steps. First the rollstock PET sheet is printed. Outside of higher print quality, Fehr says there's "nothing all that special" about the press, but he prefers not to say who supplied it nor does he indicate whether it's flexo, gravure, or offset. He adds that it's also possible to apply additional decorative applications such as foils and tactile inks—all in line.
Once UV-cured printing is done, the material is rewound and, in a second process, is formed and trimmed on what Fehr calls "thermoforming-like equipment that we made ourselves." Coming out of this process are finished, die-cut parts. Depth of draw on the Gillette package is just under 11⁄2 inches. Fehr doesn't want to describe the process in terms of how many units across or how many per cycle. "The pink part mimics the handle on the actual razor," he adds. "The head of the razor and the button are where the thermoform is at its deepest."
Part of the secret sauce is ink, says Fehr. "Several ink suppliers are suitable," he adds. "But we've zeroed in on one that enables us to apply Color Management and whose ink can then be thermoformed."
All-important FMOT
According to Fehr, it's the unique combination of printing process and forming equipment that makes it possible to thermoform in register this way. From Gillette's point of view, it's all about FMOT—First Moment of Truth.
"That's how we align with them," says Fehr. "They see our technology as being uniquely capable of affecting consumers and producing that all-important FMOT. It draws consumers in from that six-foot distance in the aisle and encourages them to pick up the package, read the trusted brand name, and make their buying decision. That's the connection between us and Gillette. We're able to strengthen their FMOT and provide differentiation among the Venus line-up on shelf."
As for where and how the packaging is done, Marcinkowski prefers not to discuss it. He notes that Venus snap with Embrace started reaching store shelves in January of 2014. It sells for about $9.50, and it will roll out globally. When asked to talk about the relative cost of a PET thermoform that is produced in two passes, Marcinkowski says all cost targets are being hit. "It helps a lot that the printing and thermoforming are done under one roof," he adds. "That minimizes logistical complications that could drive the price up."
He also says that this package is a perfect example of a platforming strategy he talked about in a recent Q&A with Packaging World (see pwgo.to/704).
"It's all about looking for something we can do that fits an existing packaging platform yet still gets us some differentiation in the store," says Marcinkowski. "This was all about making the package an extension of the product itself, of extending product awareness into the packaging. The actual product is almost the same size as the printed and thermoformed razor on the package, which, by the way, is peggable or can be displayed standing on its built-in foot."
To see a spin + zoom 360° photo, click here.
Companies in this article