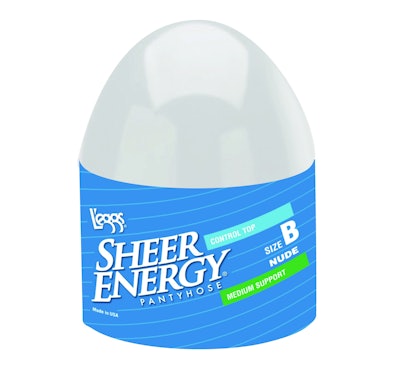 L'eggs Sheer Energy legwear is bringing back its iconic egg packaging for a limited time. The egg packaging was an important symbol of sheer legwear and was instrumental in making Sheer Energy the No. 1 sheer support brand in America, says the company, adding that the L'eggs brand was an important part of the women's empowerment movement during the 1970s and continues to support women in 2014.

The decision to bring back the egg was the result of numerous consumer requests, including one super fan asking for its return twice a week for the past year. "We're excited to bring back a part of the L'eggs brand heritage that's remembered and cherished by so many," says Angela Hawkins, Vice President, General Manager of Legwear at HanesBrands.

With the tagline, "Fabulous after 40," the L'eggs brand is celebrating its heritage with a sweepstakes offering female consumers a chance to win more than $40,000 in prizes. The sweepstakes will run from March 3 to April 28, 2014. To enter, female consumers, 21 years or older, can go to www.leggsluckyegg.com and complete the sweepstakes entry form. The L'eggs Lucky Egg Sweepstakes grand prize winner and guest will receive a round trip to Las Vegas for a special egg hunt, a $2,000 shopping spree, a beauty make-over, and tickets to attend a Las Vegas show. In addition, the grand prize winner will receive $25,000.

Starting March 10, eight weekly prize winners announced every Monday will receive a check for $1,000. For complete details, visit the L'eggs Facebook page.

To excite and engage L'eggs egg aficionados, the brand will launch a social media campaign starting March 1 with a 3D animated video showcasing the egg through the years, from the Far Out '60s, the Totally Awesome '80s, and OMG 2000s. Consumers can learn fun facts about L'eggs Sheer Energy legwear on Facebook and enter the sweepstakes at Leggs.com

The L'eggs egg will be available nationwide beginning in March for a suggested retail price of $5.50. The egg will be available at Walgreens and select Rite-Aid and Walmart stores.