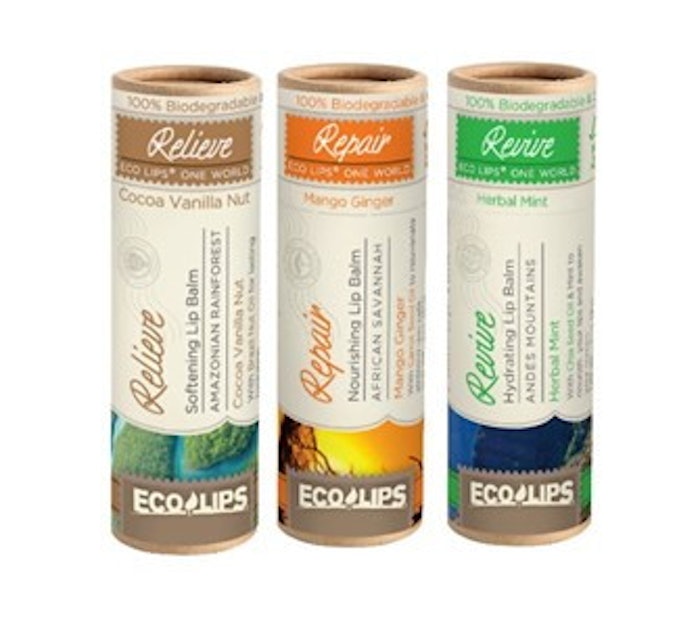 Eco Lips, an organic lip care company based in Cedar Rapids, IA, has introduced three new flavors of its ONE WORLD line packaged in tubes made from biodegradable, compostable paper.
According to Steve Shriver, CEO of Eco Lips, "We've spent the last 10 years perfecting our formulas and ingredients so now it's time to focus on the packaging. The new Eco Tube will hopefully be the beginning of a shift into sustainable packaging for the entire lip balm category."
Eco Tube is a proprietary, push-up tube manufactured exclusively for Eco Lips. The large 0.30-oz tube is comprised of noncoated paper and nontoxic food-grade glue. The label is made of nonlaminated paper. Says Eco Lips, both pieces are 100% biodegradable and backyard-compostable.
According to the company, internationally themed and beautifully crafted, each new balm in the line represents a different region of the world offering exotic oil blends with aromatherapy benefits. New products include RELIEVE Softening Lip Balm From the Amazonian Rainforest, REVIVE Hydrating Lip Balm From the Andes Mountains, and REPAIR Nourishing Lip Balm From the African Savannah.
The three new balms join the existing ONE WORLD flavors. The entire line is USDA certified-organic, Fair Trade Certified™, GMO-free, gluten-free, and cruelty-free, and is made with 100% renewable energy.