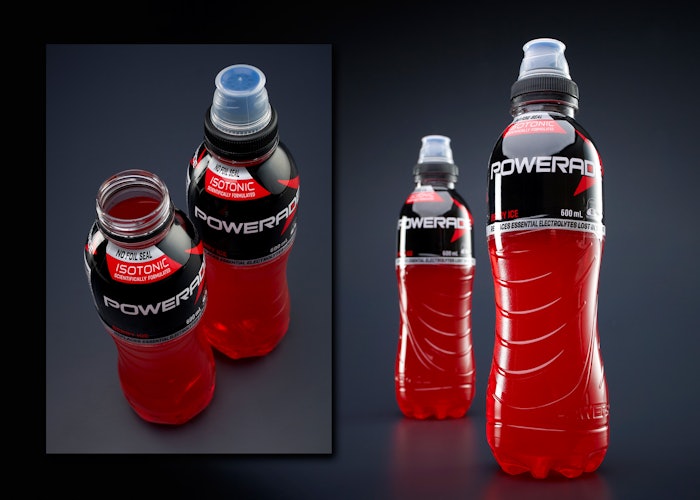 The 600-mm Powerade Sports bottle is injection stretch blow molded of PET by way of Krones NitroHotfill technology. The challenge involved was to develop an extremely lightweight, eco-friendly hotfill bottle with a 38-mm closure. This was successfully accomplished in full, as the container went from 33 to 24 g.
The NitroHotfill technology begins with what Krones calls a Relax Cooling (RC) process. A special cooling and stretching rod cools the bottles from inside while they are blown from the preform state. The bottles can be produced with a minimized weight and without the vacuum panels typically required to keep PET bottles from deforming as hot-filled bottles cool and internal vacuum pressure forms. Also possible with NitroHotfill is a flatter, design-optimized bottle base rather than the petaloid base so often seen today.
The second essential component involved in the NitroHotfill technology its nitrogen-dosing system, which is installed between the filler and the capper. It applies a precise quantity of liquid nitrogen in the headspace of the filled bottle just before the cap is applied. The nitrogen becomes gaseous at ambient temperature, which causes internal pressure in the bottle to rise slightly. This counteracts the tendency for the sidewalls to deform as internal pressure develops during product cooling.
The finished PET bottles are every bit as recyclable as conventional PET bottles.
Companies in this article