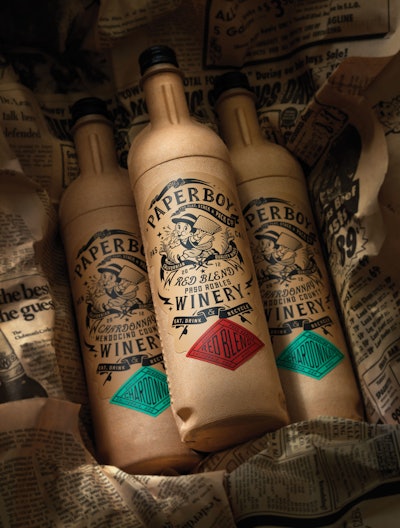 Innovative packaging designed to meet consumers' lifestyle choices—that is the vision that inspires Healdsburg, CA-based wine company Truett-Hurst, Inc. In late 2012, the super- and ultra-premium wine producer introduced a new range of wines targeted at specific buying occasions—for example, barbecues, birthdays, and anniversaries—packaged in bottles with exquisitely designed full-body paper wraps.
Now, Truett-Hurst tackles the eco-conscious, on-the-go wine lover with its "retro-cool" PaperBoy brand, a line of appellation-based, super-premium wines in a paper wine bottle—a first for the U.S.
"Truett-Hurst is always looking to respond to the reasons why people buy wine," says company CEO Phil Hurst. "An eco-responsible package was an obvious addition to our line of brands that appeal to lifestyle choices."
Introduced with limited exclusivity by Safeway in September 2013 and now in general distribution in 45 states, PaperBoy is packaged in a molded paper outer shell in the shape of a traditional wine bottle, with a plastic liner inside. The concept was brought to Truett-Hurst by designer Kevin Shaw of Stranger & Stranger, and is supplied by U.K.-based GreenBottle.
Changing consumer mindsets
As Hurst explains, his company is on a quest through new products and packaging to change the way people think about and buy wine. For eco-conscious consumers on the move, the lightweight PaperBoy package provides a responsible way for them to carry wine outdoors. "Campers, hikers, and fishermen can carry this lightweight package—only 1.9 pounds filled—and enjoy premium wine from a 750-mL bottle almost anywhere, collapsing it when finished for return to a recycling site,"
he says.
Two introductory PaperBoy varieties have been crafted by Virginia Marie Lambrix, winemaker for VML and Truett-Hurst wineries: a 2012 Paso Robles Red Blend ($14.99) and a 2012 Mendocino Chardonnay ($13.99). "We at Truett-Hurst believe that if the quality of the wine exceeds a customer's expectation, then new, cutting-edge packaging will become more mainstream," Lambrix says.
As mentioned, designer Kevin Shaw, who worked with Truett-Hurst on the Evocative Wrapped Bottle line in 2012, initially brought the concept of GreenBottle to the attention of Truett-Hurst. Hurst says at the time, his company was looking for ways to meet retailer and consumer demands for innovative new wine technologies and eco-friendly products.
While Shaw designed the branding art and contributed the "PaperBoy" name, GreenBottle engineered the wine bottle structure. Truett-Hurst's directives for the structure were that it needed to convey "wine," and it had to be able to run down their existing packaging line.
According to Hurst, a huge investment in time and engineering was required to bring the product to market: "While GreenBottle essentially provided us with a finished bottle, we had to work with them on all of the specifications required to run the bottle down the bottling line. Then we had to retrofit our bottling lines to accommodate the bottle. As you can imagine, a paper bottle does not have the same strength elements as glass, so that impacts filling, labeling, and screw capping, and the case the bottle goes in."
Multi-material package
GreenBottle, of St. Helens, Merseyside, U.K., first made its mark in 2007, with its introduction of the world's first paper milk bottle in Asda supermarkets, where it is still being sold successfully. Originally intending to sell the manufacturing equipment required to produce the molded pulp packaging, GreenBottle now primarily supplies the finished package.
The GreenBottle package is made of an outer shell comprising two half-shells of molded paper pulp, surrounding a vacuum-formed plastic inner liner welded to a plastic insert, which forms the neck of the bottle, including the thread.
According to the GreenBottle website, the bottle is manufactured in four steps. First, a paper fiber slurry is molded to form the outer shell. Next, the inner bag is formed by welding the two halves of the vacuum-formed plastic liner to the neck insert. Then, the formed bag is placed inside one half of the paper shell, while the second half is placed on top. Lastly, the bottle is glued together utilizing two bottle flaps.
The outer molded pulp package can be constructed of virgin or recycled paper or cardboard, or vegetable material such as corn or palm waste. For the PaperBoy brand, GreenBottle uses a construction of 80% pre-consumer corrugated waste. The inner liner is a low-density polyethylene construction from Bemis Europe Flexible Packaging. The neck insert is a rigid plastic, and the closure is an aluminum screw top.
Decorating the front and back of the PaperBoy bottle are Kraft-colored, recycled-paper labels, printed with water-soluble inks and applied using a natural rubber adhesive. Graphics, created by Shaw, include a cartoon drawing of a paperboy with newspaper in-hand, which contributes to the brand's lighthearted and retro-cool identity.
"This is a product that is unashamedly different, and it was important that the name was iconic to its own medium, and that the branding was bright, strong, and fearless," relates Shaw.
Environmental advantages
Just looking at the PaperBoy bottle on shelf, the package fairly screams environmentally friendly, with its Kraft-colored, molded pulp construction. But there are many eco-advantages beyond the bottle's use of pre-consumer recycled corrugated waste that are inherent with the new packaging format, Hurst relates.
Among these advantages is the bottle's recyclability. On the back of the PaperBoy package, the label provides a diagram and copy advising "How to save the planet with the paper bottle!" First, consumers separate the two halves of the outer shell of the bottle and remove the inner liner and neck assembly. The molded pulp shells as well as the cap and neck assembly can be disposed of through mainstream recycling programs. For the inner bag, Truett-Hurst advises that it is suitable for waste-to-energy programs.
While glass wine bottles are also highly recyclable, Hurst says that with a 28% recycling rate, glass is far behind paper, which boasts a recycling/recovery rate of 91%.
Another environmental advantage is the savings in transportation, given PaperBoy's lower weight versus glass—85% lighter when empty. According to Truett-Hurst, the normal weight for a case of glass bottles with liquid is 36 lb versus the paper bottle at 23.6 lb. A pallet of 56 cases prepared for shipping is reduced from 2,000 lb for glass to 1,322 lb for paper—a weight reduction of 34% and a savings of more than 7 tons per truckload of wine shipped.
As Hurst explains, one cross-country truck of PaperBoy wine, traveling 2,800 miles, saves approximately 61 gal of diesel fuel, with 1,365 lb less CO2 added to the atmosphere. "If all wine shipped annually in the U.S. [207.7 million cases] was packaged in the PaperBoy bottle, approximate savings of 50,793,750 gallons of diesel and 560,000 tons of CO2 would be realized," he says.
In total, the carbon footprint for the PaperBoy bottle versus glass is 67% smaller, while the carbon footprint for shipping is 18% more efficient than glass.
As a winemaker, Lambrix says she admires the practicality of PaperBoy. "Wines that will be consumed almost immediately do not need a heavy, environmentally and economically expensive glass bottle and cork," she says. "We would rather apply the savings that PaperBoy affords toward more expensive, better-crafted wine so that both the customer and the environment win."
Stellar sales
Since being introduced in September of last year, PaperBoy has been extremely popular with consumers, with 250,000 bottles sold in just 60 days. "Safeway is telling us sales are through the roof," says Hurst.
"We are thrilled to be a pioneer of this earth-friendly, high-quality, innovative package," he adds. "It could create an entirely new category in wine."
To see a spin + zoom 360° photo, click here.
Thinking inside the box
Along with its über environmentally friendly paper wine bottle PaperBoy, Truett-Hurst has also conceived another wine bottle design that advances the sustainability of the traditional wine packaging format. Available in Total Wine & More stores across the U.S. and Canada, Truett-Hurst's new California Square brand fine wines are packaged in an elegant, embossed square glass bottle that provides shipping and storage savings.
Says Truett-Hurst/VML winemaker Virginia Marie Lambrix, "Introducing an alternative package is tricky. The wine inside has to over-deliver and create a memorable impression for the consumer."
The elegant California Square bottle was created by Stranger & Stranger's Kevin Shaw, with a design that harkens back to classic spirit bottles, with their square shapes and memorable art. Embossing, vintage graphics, and lush, deep shades of gold, burgundy, and cobalt blue were selected to appeal to wine lovers' taste and style. Each side of California Square offers a different tactile impression, enhancing the sensory aspect of fine wine.
According to Truett-Hurst the cube shape of the California Square bottle offers a significant benefit to the environment. "Substantial financial and ecological savings are realized because the square bottles fit closer together and take up less space in shipping and storage," says the company. "Shipping cases for the bottles are 30-percent smaller than standard round-bottle cases. The savings in cardboard in a smaller box allows for an extra layer of boxes on a shipping pallet—72 boxes versus 56, or 30-percent more."
The 2012 vintage of California Square includes a Russian River Chardonnay, a Paso Robles Cabernet, and a Paso Robles Three-Red Blend. The wines retail for under $20 per bottle.
Companies in this article