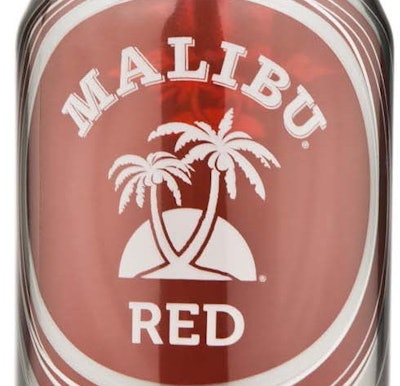 To increase shelf appeal and consumer interest for its new addition to the Malibu® family, France-based beverage manufacturer Pernod Ricard looked to Eastman Chemical Company and its Embrace™ copolyester to create labels for Malibu Red, a rum and tequila liqueur. According to Eastman, Embrace offers superior clarity and high gloss to showcase graphics as well as eye-catching 360-deg graphic capabilities and high print definition for maximum shelf appeal.
Pernod Ricard wanted to maintain a consistent brand image with its other products while developing a unique look and feel to grab consumer attention on the shelves. Eastman says its Embrace copolyester helps differentiate products by promoting brand image, increasing sales, attracting consumer attention, and encouraging brand loyalty.
"Malibu Red is pushing the boundaries of existing categories so we wanted a groundbreaking design," says Valérie Chhoeu, Global Brand Manager, Malibu. "Unlike the traditional opaque white sleeve and bottle Malibu is known for, the see-through sleeve and silver and red colors bring a modern, premium feel to the Malibu Red bottle."
Tough material, bold colors

According to Eastman, the toughness, clarity, and printability of Embrace made it a good fit for the label's high-end look and feel. To achieve the mirror-image metallic silver-and-red look, the image was reverse-printed on the clear label to bring out bold colors and enhance graphics. Embrace allows for surface printing with existing technology and without special pretreatment.
"The shrink memory of Eastman Embrace copolyester is ideal for the bottle, which has a long base and a short, narrow neck," says Alan Wolk, Vice President of Innovation and Technical Support with Gilbreth, a subsidiary of Cenveo Corp. and the shrink-sleeve label manufacturer that prints Malibu Red bottle labels. "The print characteristics of Embrace marry perfectly with the bottle."
Embrace copolyester is said to have greater than 75% ultimate shrinkage, making shrinkage around the neck possible. In addition, with Embrace's maximum shrinkage potential and ability to shrink around highly contoured or complex containers, brand owners can potentially eliminate secondary packaging, such as tamper-evident bands and plastic rings.
Recipe for success

The result of this collaboration is a product with a high-end, vibrant label that gives a distinctive shelf presence and differentiates itself from competitive products.
"A consumer makes a purchase decision within just a few seconds, and eye-catching graphics on a product is one way to get their immediate attention," says Wolk.
Malibu Red is currently available in the U.S., the U.K., Ireland, Austria, Portugal, South Africa, and the Netherlands.
Companies in this article