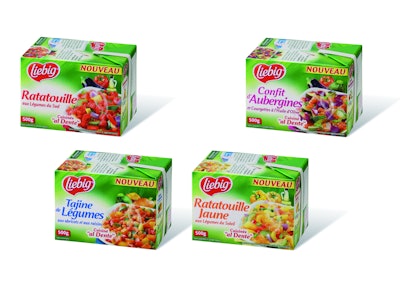 The vegetable side dishes under the sub-brand 'Cuisinés al dente' are now available in the 500-g combiblocMidi carton pack from SIG Combibloc. In Mediterranean Ratatouille, Ratatouille with Yellow Vegetables, Aubergines Confit and Vegetable Hotpot variants, ready-to-serve vegetable side dishes are now on the supermarket shelf in carton packs – right next to similar canned products. The carton pack really stands out – one reason is that the packaging for the Liebig products has been printed in landscape format for the first time, and that is the way they will be standing on the shelf.
The aseptic filling of the vegetable side dishes, containing big, al dente pieces of vegetables, into aseptic carton packs is made possible by a product preparation system that uses the ohmic process. This is a gentle, continuous heating process used to sterilise the products. The food is heated by means of an electric current. The product flows through a compact combination of pipes, which serves as electrical resistance. Compared to conventional thermal sterilisation techniques, the product is not heated over a hot surface, but uniformly through the entire product volume. The electric current goes through the food, causing the temperature to rise rapidly to high degrees Celsius. The advantage of this method is that the product ingredients retain their natural flavour and a firmer consistency than in the conventional retort process used, for instance, in conjunction with food metal cans. The ohmic process is suited in particular for processing chunky products such as fruit, vegetables and meat, vegetable soups and purées.
Once the product has been sterilised, the vegetable dished containing big, al dente pieces of vegetables are filled into aseptic carton packs in the SIG Combibloc filling machines. After the filling process has taken place, the carton packs are ultrasonically sealed above the fill level, and not through the product. This prevents product ingredients from getting caught in the sealed seam – a big plus for aseptic product safety.

Companies in this article