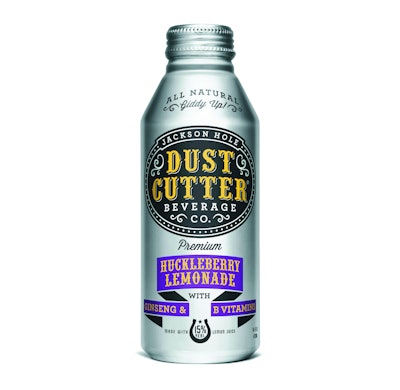 Breaking out the "All Natural Giddy Up!," Jackson Hole, WY-based Dust Cutter Beverage Co. has launched a line of lemonade based on a lemonade-and-whiskey drink that used to be served on the founding family's former dude ranch to cut the ranchers' thirst "after a long day on the dusty trail," says Dust Cutter Founder and CEO Eric Green. The three-variety line, in Original, Huckleberry, and Iced Tea flavors, includes ingredients such as ginseng and Vitamin B, and is said to be lower in sugar than other premium lemonades.
Packaging for the product is a 16-oz aluminum bottle can, the Alumi-Tek from Ball, which Green says he discovered online and settled on even before developing the brand logo or flavors. "We knew from the beginning it was the container that would separate us from the competition for many different reasons," he says. "The fact that it is aluminum is a huge selling point because it chills fast, stays chilled longer, won't break like glass, and is 100-percent recyclable. The resealable top is probably the Alumi-Tek's best feature… besides just looking very stylish, of course."
With an existing logo and packaging design in hand, Dust Cutter approached Cultivator Advertising & Design to build and create the rest of the brand. Convincing Dust Cutter to let them take a crack at a total update, Cultivator retained the original vision of a clean, simplistic look, while fine-tuning elements such as the belt buckle-style brand logo. "By refining our logo mark and packaging, they made everything much more cohesive and appealing to the consumer," says Green.
The central graphic of the can is the belt-buckle logo mark, with the Dust Cutter Beverage Co. name inside the oval and the words, "Jackson Hole" along the outside of the buckle, all in a Western-inspired typeface. "We are very proud to be from Jackson Hole," says Green, "and Dust Cutter is my family's heritage wrapped up in a delicious 16-ounce all-natural beverage."
Under the buckle is a colored banner in magenta, yellow, or brown, distinguishing the flavor. At the bottom of the can, an upside-down horseshoe proclaims that the product is "Made with 15% real lemon juice." All three flavors use a silver aluminum background, with the logotype in yellow.
Launched in May 2013, Dust Cutter is sold in natural grocers and convenience stores, and in select QSRs and bars in the Jackson Hole area. Distribution is through a custom-decorated Dust Cutter van that features a cowboy riding a lemon—also created by Cultivator—that Green says "has been incredibly effective at getting attention." The product has also made its way to Utah and to several accounts in Oklahoma City, OK, and Dallas and Austin, TX. Dust Cutter beverages and merchandise are also available for purchase at DustCutter.com.
"The response from retailers in Jackson Hole has been very positive, but that was to be expected," says Green. "Everyone who comes to Jackson Hole is looking for the Jackson Hole experience, and our product obviously fits in well with other products they are selling." Re consumer acceptance, he says they "have made Dust Cutter a part of their lifestyle."
Companies in this article